People's Committee in the central province of Quang Nam announced at a press brief on October 13 that the Viet Phap Steel Limited Company will relocated its facility to mountainous district of Nam Giang which has raised concerns of the public recently.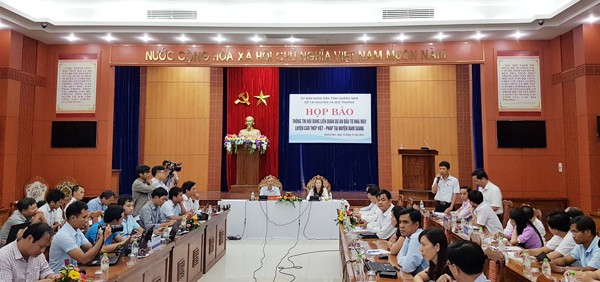 At the press brief (Photo: SGGP)
The steelmaker Viet Phap project invested by the Viet Phap Company was approved by the province authority to locate in the Thuong Tin No.1 Industry and Service Park in Dien Nam Dong commune in Dien Ban Town following a document signed on July 20, 2010.
The local authorities also approved the company's reports of environment effect on February 1, 2013.

During its operation, the Department of Environment and Natural Resource and environment police have carried out unscheduled checks of the factory's environment protection. Through check, inspectors measured dust, smoke and air at the factor which are all in the allowed level.

However, because of the urban development in Dien Ban Town and the factory's location in the residential blocks which residents expressed their disagreed of the project, the province's authority urged the People's Committee in Dien Ban District and the investor to find out other place to relocate the factory.

Under the request of the relocation, the Viet Phap Company decided to choose the location in Hoa village in Thanh My Town of mountainous district of Nam Giang in the area of 17.3 hectare. The province's authority has already green-lighted the relocation.

The factory is estimated to run at the capacity of 180,000 tons a year in the new place.