Vietnamese garment company Viet Thang Jeans has signed a contract with global channel Fashion TV to promote the country's images over the next ten years.
Under the program, Viet Thang will spend VND1 trillion (more than US$55 million) publicizing Vietnamese fashion, tourism and cuisine on Fashion TV.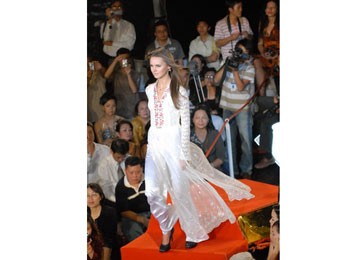 A design of Ao dai by Vietnamese fashion deisgner Thuan Viet is presented on FTV's luxurious cruise ship in HCM City on December 31, 2007. (Photo: Tuoi Tre)
Viet Thang Jeans director Phan Van Viet said it is a good chance to promote local apparel brands to the world.

It will not only be fashion that is presented, international audience also will have an opportunity to discover Vietnam's most famous landscapes and traditional specialties, he added.

Viet Thang has sought to improve product design, market research, and opened a school of design training and garment accessories, with an ultimate aim to manufacture high quality fashion products which will be presented to viewers via Fashion TV, he said.

According to him, the program will be broadcast 7 days a week, 24 hours a day in Vietnam, 7 hours a day in Indochina, 30 minutes a day in other parts of Asia and 10 minutes a day around the world. The show will start in October.
Founded in France in 1997, Fashion TV (FTV) has become one of the most widely-distributed satellite channels in the world via 31 satellite and 2,000 cable companies, and accessible to a total of 300 million households in over 200 countries.