Vietnam Joint Stock Commercial Bank for Industry and Trade (VietinBank), has agreed to donate VND52 billion (US$2.6 million) to the Sai Gon Giai Phong Newspaper charity program 'Sentimental attachment for Truong Son Road'.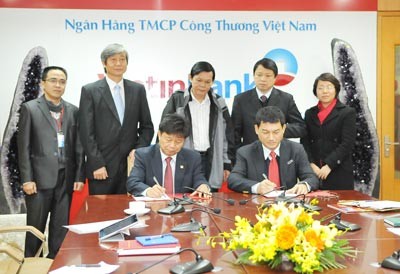 Representatives of SGGP Newspaper and VietinBank at the donation signing ceremony in Hanoi on January 13 (Photo:SGGP)
Dr. Pham Huy Hung, Chairman of VietinBank and Tran The Tuyen, SGGP Editor-in-Chief jointly signed an agreement in Hanoi on January 13, to receive the fund for the second phase of the SGGP charity program.
The donation from VietinBank will be used for building five medical clinics, 600 houses for the poor, one sanctuary and a shrine.
In addition, VietinBank will coordinate with SGGP to organize a gala concert to launch the second phase of the charity program as well as call for more donations from society.
The gala concert is expected to be held in Ho Chi Minh City on February 24, 2012.
VietinBank will donate VND1.7 billion ($85,000) for the gala concert. The bank has also donated nearly VND3 billion ($150,000) to make a documentary film on "Tro lai Truong Son huyen thoai" (Return to the legendary Truong Son Road). The documentary film will be broadcast on national television during 2012.
VietinBank is one of the leading banks in Vietnam. During past years, the bank has participated in several social activities to help the poor and disadvantaged in the country.
Since 2007, the bank has donated a total of VND1,800 billion ($90 million) for building houses in rural areas and projects to uplift war invalids and martyrs of Vietnam.
Last year, the bank donated a total of VND750 billion ($375 million) for social activities and programs to uplift the poor.