The Vietnamese Foreign Ministry has staunchly opposed the recent action of Chinese marine surveillance vessels in cutting the exploration cables of a PetroVietnam ship which was conducting seismic surveys at Lot 148 within Vietnam's continental shelf.
In an answer to Vietnam News Agency reporters' question on the issue on May 27, the ministry official confirmed that while the Binh Minh 02 ship of the Vietnam National Oil and Gas Group (PetroVietnam) was conducting a seismic survey at Lot 148 within the country's 200 nautical mile continental shelf on May 26, 2011, Chinese boats 12, 17 and 84 cut the Binh Minh 02 ship's exploration cables at a location 12 degrees 48'25" north latitude and 111 degrees 26'48" east longitude, 120 nautical miles from the Dai Lanh cape in the central province of Phu Yen.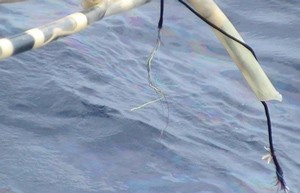 Vietnam News Agency photo shows the Binh Minh 02 ship's exploration cables cut on May 26, 2011
The official said the Vietnamese Foreign Ministry's representative handed over a diplomatic note to representatives of the Chinese embassy in Hanoi to protest against China's above action, demanding the country immediately cease and prevent the re-occurrence of its activities violating the sovereignty of Vietnam's exclusive economic zone and continental shelf, and provide compensation for Vietnam.
The diplomatic note stated that China's actions seriously violated Vietnam's sovereignty right to its continental shelf and the 1982 United Nations Convention on the Law of the Sea, and went against the spirit and content of the Declaration on the Conduct of Parties in the East Sea (DOC) signed between ASEAN and China in 2002, and the common awareness of the two countries' senior leaders of preventing further complications over the situation in the East Sea.