The Vietnamese delegation has taken an active part in bilateral and multilateral discussions at the 17th Conference of the Parties (COP17) to the United Nations Framework Convention on Climate Change (UNFCCC) which being held in South Africa, said a Vietnamese official.
Pham Van Tan, Deputy Director of the International Cooperation Department under the Ministry of Natural Resources and Environment, who is also Deputy Head of the Vietnamese delegation to COP 17, said on Dec. 1 that as a member of the UNFCCC, Vietnam has meritoriously contributed to common issues and important documents of previous climate change conferences.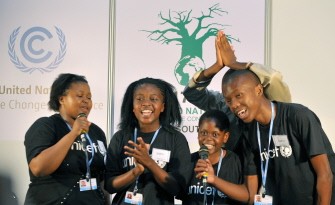 AFP - A group of South Africans calling on the South African government to plant more trees and provide every house with renewable energy in Durban on December 1, 2011 during the UN Climate Change Conference (COP17).
The delegation also discussed and approved a wide range of fundamental matters and measures to cope with global climate change, in an effort to raise the position held by the group of developing countries, including Vietnam, Tan said.
Vietnam also engaged in bilateral negotiations with many countries and partners to seek common views, to narrow divisions and enhance coordination, cooperation and support for Vietnam as it copes with climate change.
In the first days of the conference, the group of developing countries, or Group 77, including 130 countries and territories, and China paid attention to issues regarding global climate change based on the Kyoto Protocol, the Rome Convention and the Bali Concord, Tan said.
During its remaining days, the conference is likely to focus discussions on major issues and commitments to the second and following phases of the Kyoto Protocol, he said.