Improvements in easing business start-up, construction permitting and credit information sharing helped Vietnam earn a spot among the 10 most-improved economies in the ease of doing business for local firms in 2009/2010, the World Bank's Doing Business 2011 report said.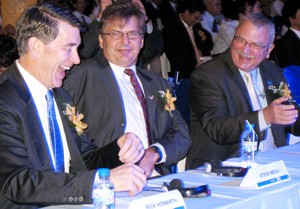 Intel Products Vietnam general manager Rick Howarth (L) chats with American Ambassador to Vietnam Michael Michalak (R) while Intel Corp. vice president Steve Megli (C) looks on during the grand opening of Intel's Vietnam factory in Ho Chi Minh City on Oct. 29, 2010. US-based chip maker Intel opened the US$1 billion assembly and test facility in Vietnam, the company's biggest in the world, that day. (Photo: Tuong Thuy)
Doing Business 2011: Making a Difference for Entrepreneurs, the eighth in a series of annual reports published by IFC and the World Bank, came out on Nov. 4.
In the report, Vietnam moved up 10 places in the global rankings to 78 among 183 economies. Singapore, Hong Kong and New Zealand lead the world in the ease of doing business for local firms.

"The Vietnamese government's efforts on regulatory and public administrative reforms are reflected in Doing Business 2011 and in the improvement of Vietnam's overall ranking," Simon Andrews, IFC Regional Manager for Vietnam, Cambodia, Laos and Thailand, said in a World Bank statement dated Nov. 4.
"Looking forward, it will be important to continue the focus on implementation of reform and maintaining the momentum of reform," he said.
For the first time in eight years, the economies of East Asia and the Pacific were among the most active reformers, according to the report. Eighteen of 24 reformed business regulations and institutions in the past year, more than in any other region.
Emerging-market economies such as Indonesia, Malaysia, and Vietnam took the lead, easing business start-up, permitting, and property registration, and improving credit information sharing. Malaysia reduced the time and cost to transfer property by introducing more online services, the report said.
Vietnam eased company start-up by creating a one-stop shop that combines the processes for obtaining a business license and a tax license and by eliminating the need for a seal for company licensing, according to the report.
The World Bank document said Vietnam also halved the cost of registering newly completed buildings. This and the transfer of the authority to register buildings from local authorities to the Ministry of National Resources and Environment made dealing with construction permits easier. In addition, the credit information system has been improved, allowing borrowers to examine their own credit report and correct errors.