Vietnamese National Assembly (NA) Chairman Nguyen Sinh Hung yesterday had a talk with Hungarian National Assembly Speaker Laszlo Kover on the occasion of his visit to Vietnam.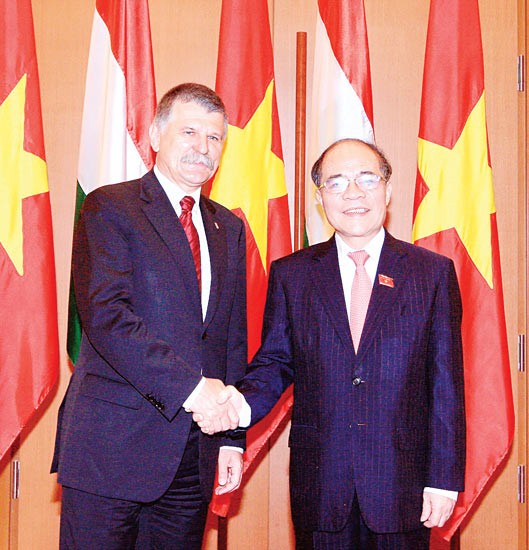 Vietnamese National Assembly (NA) Chairman Nguyen Sinh Hung (R) welcomes Hungarian National Assembly Speaker Kover Laszlo.
During the talk, the Hungarian NA Speaker expressed his pleasure to meet the Vietnamese NA Chairman within the framework of the two countries' relationship having entered a new period of development.
 
Mr. Laszlo Kover said: "The Hungarian National Assembly will ready to cooperate with Vietnam NA in the implementation of cooperation agreements signed by the two legislative bodies. The country also hoped the two sides would continue to share legislative experiences, staff training and the regular exchange of delegations between friendly parliamentarian groups of the two sides."
 
Moreover, Hungarian National Assembly hoped the two countries would actively assist and exchange views at international and regional forums, especially at the forum of the Francophone being chaired by Hungary, the speaker said.
 
In its foreign policy, Hungary has always respected the cooperative relations with Vietnam, he said, adding that the country hoped the two sides would continue to share general interest, exchange experiences about law and economic reform, and cooperate in the fields of health, agriculture and water resource disposal solution.
 
NA Chairman Nguyen Sinh Hung agreed with Mr. Kover Laszlo's suggestions, and expressed his desire that the two countries should continue to strengthen cooperation in the fields of culture, education and economy in the upcoming years.
 
"Vietnam desires to be a bridge linking Hungary and the ASEAN region and hopes Hungary would also become a bridge between Vietnam and the European Union", stressed Mr. Nguyen Sinh Hung.
 
On this occasion, Mr. Kover Laszlo presented the Hungarian Knights' Cross Order to Professor Vu Khieu who is one of first Vietnamese students in Hungary and has contributions to the cooperation and development in education and science.
 
On the same day, General Secretary of the Communist Party of Vietnam Nguyen Phu Trong and Prime Minister Nguyen Tan Dung also talked with Mr. Kover Laszlo.
 
At the meeting with the Vietnamese Prime Minister, Mr. Kover Laszlo said that the Hungarian Government approved ODA loan for construction of Can Tho Tumour Hospital and the Red River Valley Water Supply Project in 2016.
 
Hungary will ready to support Vietnam in the field of education and training, and pledge to offer 100 scholarships to Vietnamese students annually, he said, adding Hungary would try its best to contribute to enhancing the relations between Vietnam and the EU.