Both countries need to realize their cooperation strategy in the spirit of friendship, mutual trust, solidarity and development.
The remark was made during talks between Prime Minister Nguyen Tan Dung and Lao Deputy Prime Minister Somsavat Lengsavat in Hanoi on April 9.
Mr Lengsavat who is also the Chairman of the Laos-Vietnam Sub-Committee for Cooperation, is on an official visit to Vietnam for the 33rd session of the Vietnam-Laos Inter-Governmental Committee that was held the same day in Hanoi.
On behalf of the Vietnamese Government and people, Mr Dung congratulated Laos on the success of the 9th National Congress of the Lao People's Revolutionary Party (LPRP) and praised its achievements recorded in the past year.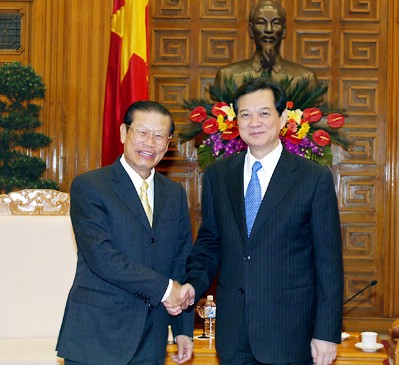 Prime Minister Nguyen Tan Dung ( R ) and Lao Deputy Prime Minister Somsavat Lengsavat in Hanoi on April 9
The Lao guest spoke highly of the Communist Party of Vietnam (CPV)'s support for the success of the 9th LPRP Congress while affirming that the Lao Government and people will always maintain their ties of friendship and solidarity with Vietnam. He also expressed his belief that Vietnam will gain still greater achievements during its renewal process to become a modern and industrialised country by 2020.
The two leaders noted with satisfaction the time-honoured mutual friendship, special solidarity and comprehensive cooperation between the two countries continue to grow vigorously in areas such as politics, diplomacy, economics, trade, investment, education, science and technology as well as national defense, security and at international forums.
As part of their ten-year cooperation strategy for 2011-2020, the two sides agreed to come up with more effective measures to boost comprehensive cooperation in various areas and support each other at regional and international forums.