Vietnamese police have arrested 99 people from China and Taiwan for having used information technology to hack into bank accounts, the Vietnamese Ministry of Public Security announced Wednesday.

The people, including 76 Taiwanese, were arrested late June and last week in Ho Chi Minh City. The suspects had been living in districts 7, 8 and 12.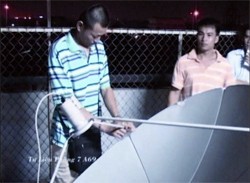 (Police handout photo) An antenna the suspects used in Ho Chi Minh City
According to the ministry, Vietnamese police prevented them from doing fraud on Vietnamese people.

Police seized the suspects' computers, laptops, mobile phones, electricity generators and ATM card readers they had used.

According to Interpol, the suspects had earlier conducted similar operations in Taiwan, mainland China and Thailand before coming to Vietnam.

Since this March, Vietnamese police have found many groups of suspects from China coming to Vietnam and staying in Ho Chi Minh City to continue their fraud. They divided into small units of eight to ten people and focused their attacks on a particular bank or financial institution, or individuals.

The suspects allegedly made random phone calls posing as telecom officials, police officers and prosecutors, urging people to wire money to specified accounts, according to the Ministry of Public Security.

A majority of the arrested are on a list of wanted criminals compiled by Interpol.

Vietnamese authorities have handed over the arrested to China and Taiwan, according to the ministry.