Vietnam attaches much importance to cooperation in the Mekong sub-region and is ready to actively take part in regional cooperation with Japan, said Prime Minister Nguyen Tan Dung on November 6.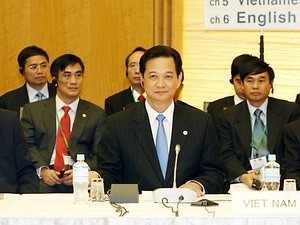 Prime Minister Nguyen Tan Dung at the Mekong-Japan Summit in Japan on November 6
Addressing the opening ceremony of the Mekong-Japan Summit in Japan, PM Dung said that Vietnam is prepared to work with the East Asian country, and others in the region, to build a long-term cooperation plan for the mutual goal of narrowing the development gap among countries in the region.
The Prime Minister expressed his hope that participants at the summit seek ways to expand joint-efforts between the Mekong sub-region and Japan as well as reinforcing their relationship in all fields, not only in economics, but also in politics and culture with top priority given to the friendship between nations.
PM Dung and other prime ministers from Cambodia, Laos, Myanmar and Thailand spoke highly of Japan 's initiative to hold the summit and Japanese Prime Minister Yukio Hatoyama's political decision to host the event.
PM Yukio Hatoyama said that the first Mekong-Japan summit is an important event to boost cooperation between the two sides and this will be an opportunity for both to discuss a future vision for the Mekong river area and Mekong – Japan relations.
PM Hatoyama affirmed that the new Japanese administration will continue its efforts and play an important role as a link in building greater prosperity in the region.
Participants to the summit also deliberated measures to comprehensively develop the sub-region with top priority given to infrastructure development, the transport network, human resources development and environmental protection.
The prime ministers said that to reach the target, it is necessary to mobilize all sources and harmonize the legal systems of their countries to make it easier for trans-national investment and trade.
On the sidelines of the summit, earlier, PM Dung met Japanese Crown Prince Naruhito, House of Representatives speaker Yokomichi Takahiro and House of Councilors President Eda Satsuki.
At the meetings, PM Dung applauded Japan's efforts to increase its relations with Asia in general and with the Mekong sub-region in particular. He affirmed that Vietnam desires to further its strategic partnership with Japan and it is ready to work with the country within the framework of Mekong-Japan cooperation as well as in international and regional forums.
On the occasion, the PM thanked the Japanese Royal family and leaders for the warm sentiments they have extended to Vietnam in bilateral cooperation and friendship.