Vietnam supports the End to Poverty Initiative and the 2030 Agenda of the International Labour Organisation (ILO) as well as millennium initiatives to welcome the 100th founding anniversary of the ILO, said Deputy Minister of Labour, Invalids and Social Affairs (MoLISA) Pham Minh Huan.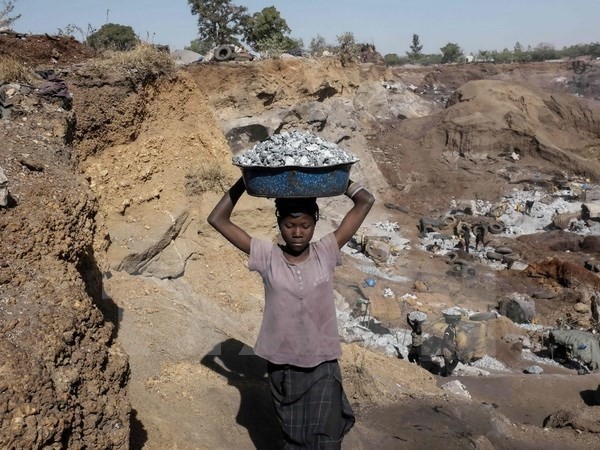 A child working at a quarry in Ouagadougou, Burkina Faso (Source: AFP/VNA)
Addressing the 105th International Labour Conference (ILC), which took place from June 1-13 in Geneva, Huan also emphasized sustainable employment in global supply chains, which was an issue discussed at the event.
Apart from advantages, Vietnam has faced challenges when joining global supply chains, he said, naming human resources quality, labour productivity, and competitiveness of enterprises and labourers as some problems.
President of the Vietnam General Confederation of Labour (VGCL) Bui Van Cuong also delivered a speech at the event, in which he stressed the VGCL attaches importance to the negotiation and signing of collective labour agreements, considering this as a crucial tool to protect interests of its member and labourers and prevent discrimination at work .
He said Vietnam's trade union organisations actively participated in building labour-related laws and policies, and protecting rights and interests of members and leaders of trade union establishments.
The 105th ILC focused discussions on key labour issues, including the decline of working activities in global supply chains, employment at sea and basic rights of employees.
In the framework of the event, Vietnamese representatives attended a meeting of labour ministers from the Asia Pacific Group of the ILO (ASPAG).
They also held bilateral meetings with ILO officials and delegations from Switzerland, Indonesia, the US and Canada to look for specific measures implementing bilateral agreements signed between Vietnam and these countries.
In particular, ILO representatives committed to supporting the Vietnam Co-operative Alliance (VCA) in seeking outlets for agricultural products in demanding markets such Japan, Australia, Germany and Switzerland, in accordance with an MoU signed between the ILO and the VCA in Hanoi on May 27.-VNA