A Vietnamese delegation led by Deputy Foreign Minister Pham Binh Minh participated in the 16th Ministerial Meeting of the Non-aligned Movement (NAM) and a ceremony to mark the 50th founding anniversary of NAM, in Bali, Indonesia from May 24-27.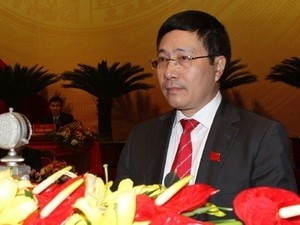 Deputy Foreign Minister Pham Binh Minh
Vietnam was elected as one of the Vice Chairs of the meeting, which drew the participation of over 130 delegations from NAM member countries, observers and international organizations.
The delegates approved the meeting's documents and declarations on celebrating the 50th NAM founding anniversary and Palestinian refugees. The meeting also admitted Fiji and Azerbaijan , raising the total number of NAM members to 120.
Speaking at the event, the Vietnamese delegation head highlighted the historical significance of NAM over the past five decades as it gathered the indispensable political forces of developing countries, protected basic principles of the international law and UN Charter, and united against superpower policies, striving to build fair and equal international relations and strengthen friendship and cooperation among member countries.
Minh said that NAM should maintain its existing basic principles which were considered its guidelines during the past 50 years, especially the principle of respecting the independence and sovereignty of nations.
"The movement should improve its role and strengthen solidarity to address current global challenges while accelerating the UN reshuffle, implementing Millennium Development Goals (MDGs) and solving burning issues through peaceful solutions, actively contributing to maintaining international peace and security, and for the sustainable and prosperous development of all nations," he said.
According to the Vietnamese representative, NAM needed to have a stronger, more united standpoint on fighting interventions in countries' internal affairs under the mask of democracy and human rights, or the unilateral imposition of embargo measures on several NAM countries.
Deputy FM Minh affirmed that during the struggle for national independence as well as in the current renewal, industrialization and modernization period, Vietnam had actively participated in NAM activities.
With its foreign policy of independence, self-reliance, multilateralisation and diversification of international relations, and proactive international integration along with becoming an active and responsible member of the international community, Vietnam would make more practical contributions to the movement's goals in order to build a peaceful and prosperous world.
On the sidelines of the NAM Ministerial Meeting, Deputy FM Minh met with heads of several foreign delegations, including Cuba, Venezuela, Laos, Cambodia, India, Belarus, Sri Lanka, El Salvador, Colombia, Kazakhstan, New Zealand, Bhutan and Slovenia.