Vietnam and Australia have agreed to elevate bilateral relations to the level of a comprehensive partnership.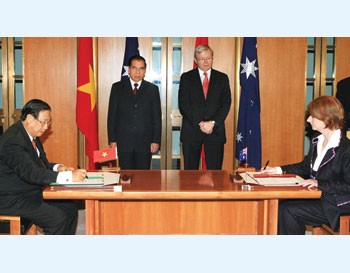 Party General Secretary Nong Duc Manh (L, standing) and Australian Prime Minister Kevin Rudd witness the signing of documents to implement high-level agreements. (Photo: VNA)

Vietnamese Party General Secretary Nong Duc Manh and Australian Prime Minister Kevin Rudd reached this meeting of minds during their talks in Canberra on September 7.
Both leaders expressed their delight at the rapid and effective development of their friendly and cooperative ties since Vietnam and Australia officially established diplomatic relations on February 26, 1973.
They spoke highly of progress in bilateral political cooperation through the increase of high-level meetings, and praised the efficiency of dialogue and cooperation mechanisms between the two countries, including the regional security dialogue and the Australia-Vietnam human right dialogue.
General Secretary Manh applauded Australia 's move to become one of the largest donors for and long-term partners of Vietnam 's development. He also appreciated and thanked Australia for its provision of official development assistance (ODA) to support Vietnam 's socio-economic development, hunger elimination and poverty reduction, describing the Australian-funded My Thuan Bridge as a symbol of this bilateral relationship.
Host and guest affirmed their resolve to further expand and deepen friendship and cooperation between Vietnam and Australia in the interests of their two peoples and for prosperity in each country, thereby contributing to peace, stability, cooperation and development in the region and the world at large.
The two leaders agreed to increase high-level meetings in different forms as well as visits at all levels and cooperation and consultation between sectors and ministries of the two nations.
Manh and Rudd agreed to beef up economic cooperation, especially in the fields of mining, light industry, processing, finance, and banking and services as well as escalating two-way trade.
They held that the two countries should encourage and create all possible favourable conditions for their businesses to invest in each other's markets and expand close and durable cooperative ties, particularly in the post-global financial crisis period.
The two sides pledged to work together closely in order to effectively use Australian ODA capital. PM Rudd reiterated his government's commitment to continuing granting aid to Vietnam , including the design and the possible funding of the Cao Lanh Bridge in the Mekong Delta.
PM Rudd asserted that the Australian government will increase the number of scholarships to Vietnamese university students and support Vietnam 's doctoral training programme as well as training courses on administration, international law and English, designed for state employees.
Based on their current cooperation in health and agricultural research, the two sides decided to hold negotiations towards the signing of agreements in an effort to strengthen cooperation on scientific research between Australian and Vietnamese scientists.
Whilst discussing regional and international issues of mutual concern, Manh and Rudd emphasised the need to promote Vietnam-Australia cooperation in regional and international organisations and forums, including the United Nations, the East Asia Summit (EAS), the Asia-Pacific Economic Cooperation (APEC) forum, and the Association of Southeast Asian Nations (ASEAN).
They noted that Vietnam and Australia should step up cooperation on global issues such as environmental protection, climate change, natural disaster and epidemic prevention and control, counter-terrorism, disarmament, the non-proliferation of weapons of mass destruction, and fighting trans-national crime.
The Party leader highly praised and thanked Australia for its support for Vietnam in the country's international integration process, including its accession to the APEC, the World Trade Organisation (WTO) and its non-permanent membership on the UN Security Council for the 2008-2009 term.
He confirmed his backing of continued discussions on Australia 's initiative to set up an Asia-Pacific Community and promised active consideration of Australia 's bid to run for a non-permanent seat on the UN Security Council for the 2013-2014 tenure.
Party General Secretary Manh also promised to foster cooperative relations between Australia and ASEAN, especially when Vietnam takes over the group's chair in 2010.
PM Rudd applauded Vietnam 's support for Australia 's efforts to become a member of the Asia-Europe Meeting (ASEM) in 2010, as well as its Asian integration at ASEAN and EAS. He pledged to assist Vietnam in its talks to join the Trans-Pacific Strategic Economic Partnership Agreement (TPP).
On this occasion, Party General Secretary Manh invited PM Rudd to visit Vietnam . The Australian PM accepted the invitation with pleasure.
Following their talks, the two leaders witnessed the signing of documents to implement high-level agreements. Vietnamese Deputy PM Pham Gia Khiem and his Australian counterpart, Julia Gillard, signed these documents.
On the evening of September 7, PM Rudd hosted a state dinner in honour of Party General Secretary Nong Duc Manh and his delegation.