Vietnamese police and the Australian Federal Police have broken an international drug trafficking syndicate in the two countries, a Vietnamese police officer said Monday.
Five Australian men have been arrested in the operation, said Colonel Le Thanh Liem, deputy chief of the Drugs Investigation Police Department, which is under the Vietnamese Ministry of Public Security.
The five arrested are David Francesco Martelli, Guido Pirri, Shane Trout, Mark Cooper and Vietnamese-Australian Nguyen Minh Hien, the source said.
Drugs and chemicals have been seized in the operation involving South Australia and Federal Police, Customs and Vietnamese police, according to Mr. Liem.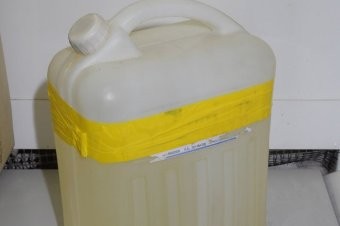 Liquid seized in drug raids (Photo: Australian Federal Police)
The five people were arrested in South Australia on September 13, 2011. The seizures included more than one kilogram of white powder thought to be a variation of ecstasy and more than 10 kilograms of a liquid.
Mr. Liem said a container was shipped from Vietnam late July and arrived in Western Australia in August, with the amphetamine BZP. After swapping the BZP with another substance, Australian police tracked the container to South Australia, where they arrested the five people in September.