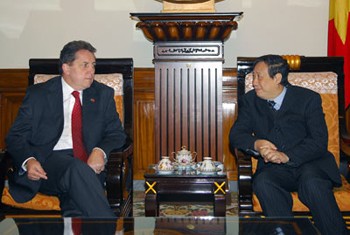 Deputy Prime Minister Pham Gia Khiem welcomes Australia's Minister for Immigration and Citizenship Chris Evans on Jan 13 in Hanoi. (Photo: Vietnamnet)

Vietnam signed a memorandum of understanding with Australia on January 13 to swap information on immigration to strengthen cooperation in their fight against human trafficking and illegal immigration.
Australia's Minister for Immigration and Citizenship Chris Evans said he and Minister of Public Security Le Hong Anh discussed the importance of immigration control in tackling smuggling by sea and air, human trafficking, and other crimes.
The two sides have agreed to set up agencies to gather and analyze immigration information.
Australia has agreed to help Vietnam with personnel and English training, including studying files and documents.
Mr. Evans and his delegation also met Deputy Prime Minister and Minister of Foreign Affairs Pham Gia Khiem.
Mr. Khiem said Vietnam wants to cooperate with Australia and other countries in the region in immigration issues and combating organized illegal immigration.
Mr. Evans said with the increasing bilateral trade, immigration issues are growing in importance.
Trade between the two countries was worth US$7 billion in 2007.