In an unprecedented show of love, gratitude and grief, thousands of Vietnamese citizens, expatriates and even tourists visited the Cuban embassy in Hanoi to pay their last respects to Fidel Castro (1926-2016).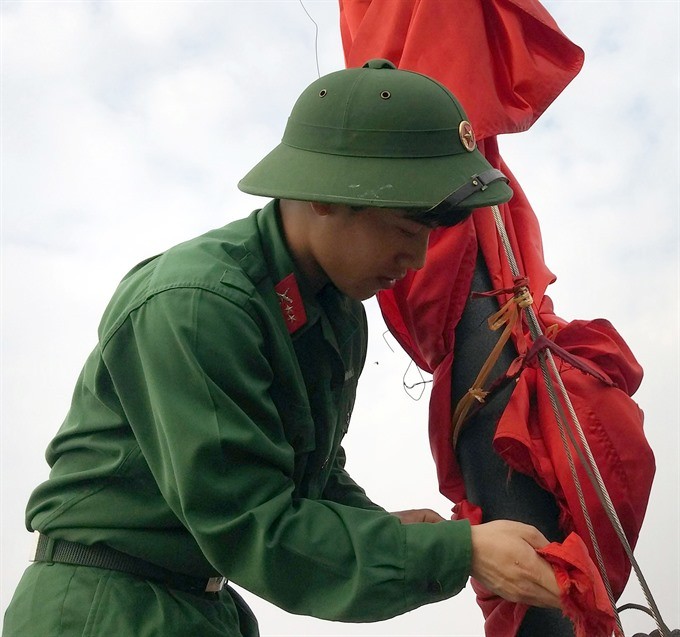 A soldier ties a flag at half-mast on the Flag Tower of Hanoi, in a national tribute to Fidel Castro. (Photo: VNA/VNS)
Floral tributes in the form of wreaths and bouquets from businesses, institutions and people from all walks of life adorned the embassy premises. 
Vietnam yesterday observed a day of national mourning for Fidel Castro, expressing condolences and gratitude to the revolutionary leader of Cuba, who passed away on November 25.
Vietnamese citizens offered their traditional gesture of kowtowing to the departed soul with folded hands before a bronze bust of the revolutionary leader who fired the imagination of millions as they protested all manner of oppression.
All visitors were welcomed by the embassy staff, including the ambassador, who thanked each mourner in person.
"They have not stopped coming today," Ariadne Feo Labrada, head of the embassy's Consular Office, said yesterday.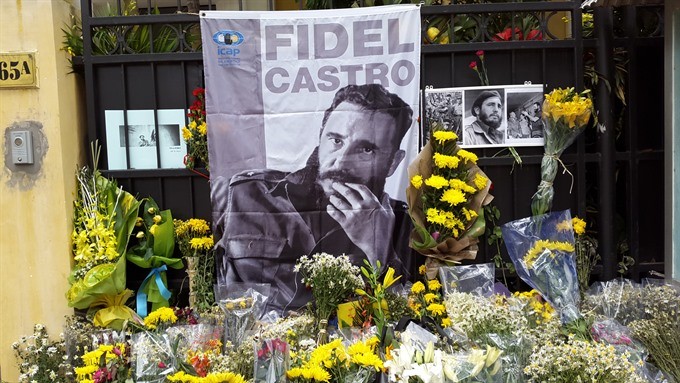 Thousands of Vietnamese citizens, expatriates and even tourists visited the Cuban embassy in Hanoi to pay their last respects to Fidel Castro. (Photo: VNS)
Cuban Ambassador to Vietnam Herminio Lopez Diaz said the embassy was surprised and moved by the Vietnamese people's sentiments towards Fidel.
Hundreds of delegations, including Party, State and Government leaders, representatives of ministries, agencies, localities and foreign embassies, and Vietnamese of all social strata, have paid homage to the late leader since November 28, he said.
"Vietnamese sentiments towards Fidel demonstrate that the late leader is the symbol of fraternal solidarity and friendship between Vietnam and Cuba," the ambassador said.
Photographs displayed at the embassy underscored the special relationship between the peoples of both countries.
They showed Fidel Castro meeting with former President Le Duc Anh, former Party General Secretary Nguyen Van Linh, and even demonstrating the use of a gun with former Prime Minister Pham Van Dong. Meetings with current Party Secretary Nguyen Phu Trong and President Tran Dai Quang were also on display.
A photograph showing the Cuban leader's visit to heavily mined Quang Tri Province in 1973, even as the American War raged, drew a lot of attention and comments.
Fidel Castro, who was Commander-in-chief of the Cuban revolution, former First Secretary of the Communist Party of Cuba Central Committee (CPC), and former President of the Council of State and Council of Ministers, died on November 25 night (Havana time) at the age of 90.
Cuba announced nine days of national mourning (November 26 to December 4). Fidel will be interred in a cemetery in Santiago City on December 4 (local time).