Prime Minister Nguyen Tan Dung had separate meetings with his Thai and Lao counterparts and the World Bank Vice President on the sidelines of the Mekong River Commission (MRC) Summit in Hua Hin, Thailand, on April 4.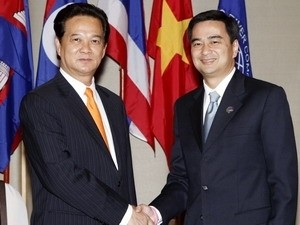 Vietnamese Prime Minister Nguyen Tan Dung (L) meets with his Thai counterpart Abhisit Vejjajiva in Hua Hin, Thailand on April 4
Vietnam attaches importance and wishes to develop friendship and multifaceted cooperation with Thailand, including cooperation at the MRC, PM Dung told his Thai counterpart Abhisit Vejjajiva.
He attributed cooperation between the two countries as well as with Laos and Cambodia to obtained positive results in implementing the Mekong agreement – an important legal document for enhancing friendship and cooperation, ensuring sustainable development for all nations in the basin.
The two PMs agreed that this summit and the MRC's basin development strategy will put forth important orientations for future cooperation among nations.
Vietnam, Thailand and MRC member countries will implement the orientations and agreements and accelerate adoption of regulations on water resource quality. The two sides also agreed to encourage Myanmar and China to deeply involve in the MRC.
PM Abhisit said that countries needed to increase exchange of information, assessment and propose resilient measures as well as boost cooperation with countries in Mekong river's upper area.
He affirmed Thailand's support for Vietnam in the ASEAN Chairmanship and attendance to the millennium anniversary of Thang Long-Hanoi.
At the meeting with Lao PM Buasone Bouphavanh, the two leaders expressed delights at strong development in bilateral economic ties, trade and investment in recent years. They agreed to raise effectiveness in cooperation and strive to reach USD1 billion  in two way trade this year.
The two-way trade between Vietnam and Laos stood at over USD420 million  in 2009, equivalent to the figure in 2008.
The two sides agreed to closely work with the MRC and stressed the necessity to boost cooperation among Mekong nations for common benefit of all countries in the basin.
Speaking to WB Vice President James Adam, PM Dung spoke highly of and thanked for WB assistance to Vietnam in its socio-economic development and poverty reduction process and consultancy for macro-economic policy and public investment reform.
WB Vice President James Adam praised Vietnam's recent economic development achievements, particularly success in coping with response to impacts of the global financial crisis.
Vietnam is a country using effectively the WB's capital resources. Projects carried out in Vietnam have brought positive impacts affected on the country's socio-economic development, according to the WB Vice President.
The WB adopted a preferential loan worth USD500 million  to help implement a public investment reform program in Vietnam, James Adam said, affirming WB's commitment to help Vietnam in climate change and study on impact of sea level rising.
Regarding future assistance programs, he pledged that WB will continue help Vietnam in macro economic stability, balance in growth and inflation control.