Vietnamese President Tran Dai Quang has a discussion with Brunei's King Haji Hassanal Bolkiah Mu'izzaddin Waddaulah after the official welcome ceremony held for him at Istana Nurul Iman Palace in Bandar Seri Begawan capital of Brunei Darussalam on August 27.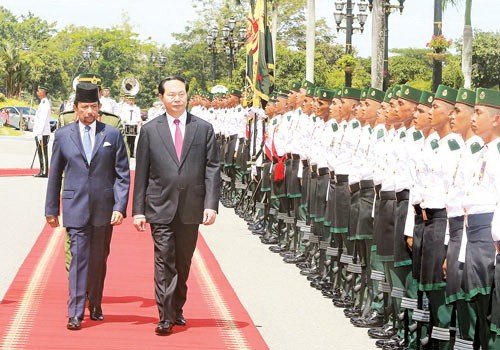 Brunei's King Haji Hassanal Bolkiah Mu'izzaddin Waddaulah (L) welcomes solemnly Vietnamese President Tran Dai Quang
At the talking, the two countries' leaders expressed their pleasure about good development of two countries within the framework of bilateral relations at the regional and international forums.
Two sides are determined to improve further the relations in the upcoming time, actively collaborate and adopt high- ranking exchange meetings, activities and seminars in order to advertize culture, country, people and traditional values each other on the occasion of the 25th anniversary establishment of Vietnam- Brunei diplomatic ties in 2017.
Vietnam and Brunei will continue maintaining high level visits, conferences and exchange programs to tighten as well as increase understanding and confidence each other. Two sides will soon organize the first meeting of the bilateral cooperation committee in Vietnam to find effective measures in economic, trade and investment cooperation, bringing two- way trade turnover of US$ 500 million by 2025.
Two leaders have highly appreciated cooperation relation of defense and security of Vietnam and Brunei in the previous years; unanimously boost bilateral defense cooperation and desired cooperation in potential fields such as agriculture and seafood, gas & oil, labor, tourist, training and education, transport.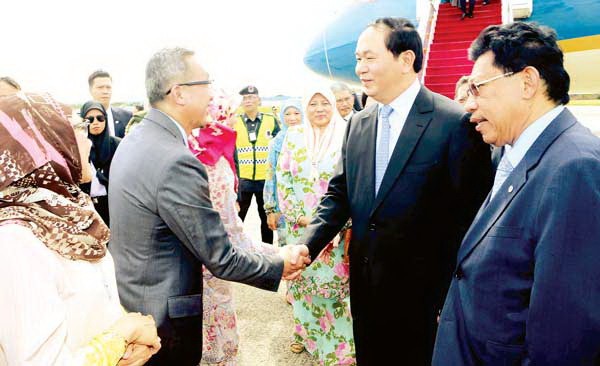 Vietnamese President Tran Dai Quang visits Brunei-LNG Company
Both sides cheered on conclusion the following Memorandum of Understanding (MoU) about cultural cooperation between Ministry of Culture, Sports and Tourism of Vietnam with Ministry of Culture, Youth and Tourism of Brunei Darussalam, Memorandum of Understanding about trade and economic cooperation between Trade and Industry Ministry of Vietnam and Ministries of Foreign Affairs and Trade of Brunei Darussalam, and agreed to soon sign some cooperative agreements such as MoU about labor and Maritime Transport Agreement…
Brunei's King Haji Hassanal Bolkiah Mu'izzaddin Waddaulah also said that Vietnam- Brunei Business Forum taking place on August 28 will create best cooperative conditions for two countries' enterprises.
Besides, the King thanked to Vietnamese experts for their donation in rice, agriculture and seafood planting.
State President Tran Dai Quang expressed his pleasure as two countries reopened direct air route connecting Brunei Darussalam and Ho Chi Minh City in October, 2014, and Brunei Darussalam solved problems of fishermen and fishing vessels of Vietnam basing on two countries' good friendship relation.
For regional and international problems, leaders agreed to continue collaborating and donating at the regional and international forums, especially, the Association of Southeast Asian Nations and United Nations.
Two sides stressed that maintenance of peace, stabilization, security and safety in the East Sea played important role for many countries and is shared responsibility. That is the reason why Vietnam and Brunei unanimously will solve conflicts on East Sea following peace measures, Conduct of Parties in the East Sea (DOC), towards the early formation of a Code of Conductin the East Sea (COC).
Brunei's King affirmed that Brunei Darussalam will actively support Vietnam at the 2017 Asia-Pacific Economic Cooperation (APEC) and International Law Commission (ILC).