HANOI, April 23, 2010 (AFP) - Vietnam said Friday it was "deeply concerned" by blasts in the Thai capital Bangkok that left one dead and called for restraint and dialogue after weeks-long anti-government protests.
"Vietnam calls upon concerned parties in Thailand to restrain themselves, avoid violence and deal with disputes peacefully, through dialogues and negotiations, to soon stabilise the situation in the country for benefit of the Thai people," said foreign affairs spokeswoman Nguyen Phuong Nga.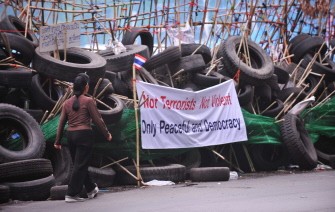 A woman walks past an anti-government Red Shirt protesters' barricade made up of used tires in the central quarter of Silom in downtown Bangkok on April 24, 2010. AFP photo
Five grenade blasts hit Bangkok's financial hub on Thursday night, targeting hundreds of pro-government supporters in attacks that left one Thai woman dead and scores wounded, including foreigners.
On Friday Thailand's army and anti-government protesters made tentative peace overtures, seeking to avoid a looming crackdown and a repeat of clashes that left 25 people dead earlier this month.