Deputy Prime Minister Nguyen Sinh Hung has called on governments and international organizations to work together to overcome the global economic recession as well reduce poverty and unemployment and achieve sustainable development.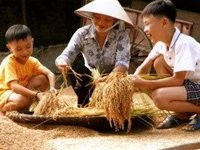 ADB advises Asian countries should pay special attention to their social welfare systems to support the poor. (Photo: VNA)
Speaking at a high level Asia – Pacific forum on the impacts of the recession on poverty reduction and sustainable development that opened in Hanoi on September 25, Mr. Hung said though many countries had initial success in fighting the economic slowdown, the crisis poses an imminent threat.
It requires regional countries to deal with urgent issues like employment, finding funds for health care, education, rural infrastructure, and social welfare, he said.
Vietnam would focus on rural development and poverty reduction to ensure sustainable development, he said.
Vietnam believes it would remain an attractive destination for investors, he added.
The president of the Asian Development Bank (ADB), Haruhiko Kuroda, said when Asia recovers, its countries should expand their social-welfare systems to support the poor.
To cope with any future crisis and achieve sustainable development, they should continue to restructure their economies, increase regional trade, stimulate consumption, and allocate funds for social welfare, medical insurance, and education for the poor, he said.
The three-day forum, co-hosted by the ADB, the Vietnamese Government, China, and the ASEAN secretariat in Hanoi, attracted 350 delegates from 28 countries and various international organizations.