High- level delegation of Cambodia led by Chairman of National Assembly (NA) Samdech Akka Moha Ponhea Chakrei Heng Samrin had an official visit to Vietnam from August 18-20 according to the invitation of Chairman of National Assembly Nguyen Sinh Hung.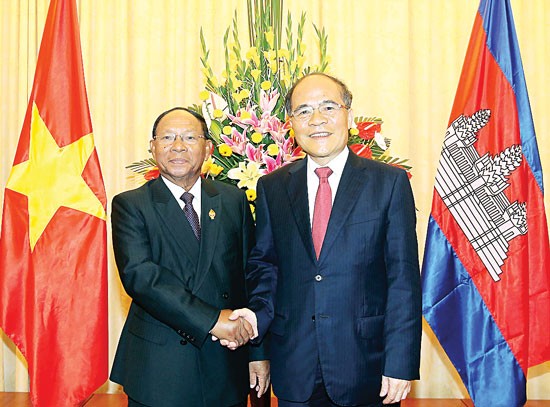 Chairman National Assembly Nguyen Sinh Hung (L) and Cambodian National Assembly Samdech Akka Moha Ponhea Chakrei Heng Samrin. (Photo:SGGP)
At the meeting, Chairman Nguyen Sinh Hung expressed his pleasure to welcome the Cambodian NA delegation on the occasion of the 35th anniversary of the southwestern border defense war and the two countries' joint triumph against the Khmer Rouge regime (January 7, 1979 and January 7, 2014).
He said that this visit expressed deep emotion of the Cambodian NA leaders, people for Vietnam as well as contributed to promote friendship relations, solidarity and trade cooperation between two countries.
Chairman Nguyen Sinh Hung praised and congratulated great achievements of economy, politics of Cambodia, and shared difficulties, challenges which the country faces with.
Chairman Heng Samrin appreciated Vietnam's achievements in the recent years under leaderships of Party, Government and National Assembly. He also hoped that Vietnam will continue to get new achievements in the fields of economy, society and trade exchange with Cambodia.
On this occasion, NA chairman Heng Samrin also reported achievements of economy, politics and society of his country. In addition, he ppreciated support of Vietnam National Assembly, and expressed his desire in promoting cooperation, experience exchange between two countries, especially in legislative work and exchange of delegations.
At the talks, two sides pledged to continue to promote comprehensive cooperation, solidarity and support in resolving regional problems, aiming to keeping peace, stability and security as well as strengthening role and position of National Assembly of each country at international parliamentary forums.
Two sides will try to work together for the sustainable development of the ASEAN Inter-Parliamentary Alliance (AIPA).
On this occasion, NA Chairman Nguyen Sinh Hung invited the Cambodian NA Chairman Heng Samrin and his delegation participated in the 132nd International Parliamentary Alliance Congress in Vietnam in the next year.
On the same day, State President Truong Tan Sang and Prime Minister Nguyen Tan Dung had an additional meeting with the Cambodia's NA chairman Heng Samrin . President Sang affirmed that Vietnam will always support Cambodia in the various fields.
President Sang suggested that two countries will continue to strengthen cooperation in the fields of education, health as well as enhancing two-ways trade turnover at US$ 5 billion in 2015.
Mr. Sang also hoped that two sides will closely coordinate and support each other in the regional and international forums.
At the meeting with Chairman Heng Samrin, Prime Minister Nguyen Tan Dung said that this visit plays an important role in developing good neighborliness, traditional friendship, comprehensive cooperation and long-term stability between the two countries.