Vietnam wants to strengthen its traditional friendship and comprehensive cooperation with Cambodia, Party General Secretary Nong Duc Manh has said.
Receiving Samdec Chea Sim, president of the Cambodian People's Party and speaker of the upper house, who is on a three-day visit, in Hanoi yesterday, he said the visit would help strengthen the trust and understanding between the leaders and peoples of the two countries.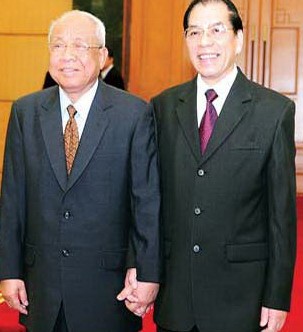 General Secretary Nong Duc Manh (R) receives Cambodian People's Party leader Samdec Chea Sim in Hanoi
It would consolidate the comprehensive co-operation between Viet Nam and Cambodia for the benefit the two peoples, he said.

The friendship and cooperation between the two countries have developed in the spirit of "fine neighborliness, traditional friendship, comprehensive co-operation, and lasting sustainability," Mr. Manh said.

Mr Chea Sim expressed the Cambodian people's gratitude for the Vietnamese Party, State, and soldiers for saving Cambodia from a genocidal regime and helping it rebuild the country after the war.

The two leaders agreed that conditions are now conducive for expanding cooperation in various fields, particularly economy, trade, culture, education, and law.

Vietnam and Cambodia would continue their close coordination at ASEAN, ACMECS, UN, and other regional and international forums for their mutual benefit, the two leaders agreed.