Vietnam and China have agreed to properly deal with the land border issues and seek basic and durable solutions to the sea-related matters via friendship negotiations.
This is one of the five consensus decisions made at the fourth meeting of the Vietnam-China steering committee for bilateral cooperation, which was co-chaired by Vietnamese Deputy Prime Minister and Foreign Minister Pham Gia Khiem and Chinese State Councilor Dai Bingguo.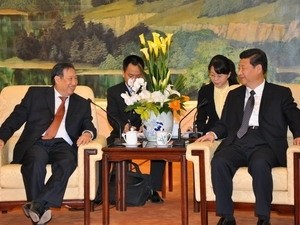 Chinese State Councilor Dai Bingguo (R) meets with visiting Vietnamese Deputy Prime Minister cum Foreign Minister Pham Gia Khiem (Photo: Vietnam News Agency)
The two sides agreed to enhance political trust and exchanges to lay a firm foundation for the development of the bilateral relationship, and boost relations between the two Parties, especially in the exchange of theory and experiences in the Party building work, socialist construction, State management and personnel training.
They emphasized the necessity to soon set up a hotline between senior leaders of the two nations and jointly organize activities to celebrate the 2010 Vietnam-China Friendship Year, particularly the Vietnam-China youth festival scheduled to take place in late August 2010 in Guangxi.
The two sides agreed to further promote economic, trade and investment cooperation, maintain the steady growth of two-way trade, address trade imbalance and early hold the seventh meeting of the Vietnam-China Committee for Economic and Commercial Cooperation.
The officials also agreed to step up cultural cooperation and friendship exchanges, as well as tighten coordination in multilateral, international and regional issues.
At the meeting, the participants were unanimous that Vietnamese and Chinese cities and provinces, especially border localities, need to further foster mutually beneficial cooperation, thus advancing economic, trade, investment and tourism relations between the two neighbors.
They noted with pleasure the important progress made in relations between the two Parties and States since the third meeting held in March 2009, referring to the regular exchange of visits of senior leaders and increased exchanges between ministries, agencies and localities of both countries.
On July 2, Khiem met with Chinese Vice President Xi Jinping. He conveyed best regards from the Vietnamese Government to its Chinese counterpart and people in southern provinces who were affected by recent floods.
Xi spoke highly of the results of the freshly-ended meeting, especially the measures to further enhance the comprehensive strategic cooperative partnership between the two nations in the years to come.
The vice president said the Party and Government of China attach great importance to and would spare no efforts to boost its relations with Vietnam.
During his four-day visit from June 29, Khiem met with Chinese Foreign Minister Yang Jiechi and former State Councilor Tang Jiaxuan to discuss the bilateral relationship and international and regional issues of mutual concern. He visited a number of economic and cultural establishments in Beijing and Tianjin.
Khiem and Tianjin Mayor Huang Xingguo exchanged views on measures aimed at strengthening cooperation between Vietnam and the Chinese city in urban planning; seaports; high, green and clean technology and education.