President Nguyen Minh Triet and visiting Chinese State Councilor Dai Bingguo discussed bilateral relations in Hanoi March 19.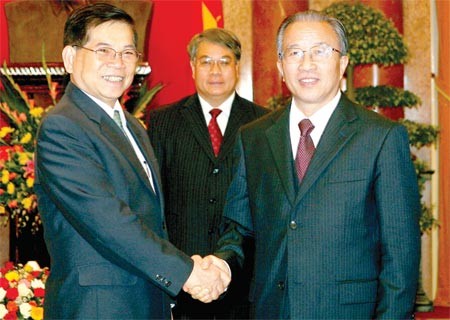 President Nguyen Minh Triet (L) welcomes visiting Chinese State Councilor Dai Bingguo in Ha Noi on March 19 (Photo: SGGP)
The Vietnamese leader expressed satisfaction at the strong and comprehensive growth in relations between the two Communist Parties and states in the spirit of "comprehensive strategic partnership" already agreed by the two countries.
Though their relationship has experienced ups and downs, the common goal of the two countries is to look towards a comprehensive coorperation, he said.
The recent demarcation of their land border would give a boost to the relationship, he said.
Mr. Dai said Vietnam and China have the potential for comprehensive cooperation, especially in trade and investment.
But the two sides also need to expand cooperation in border areas, not only on land but also at sea.
The two sides agreed to continue negotiations on maritime issues to find long-term solutions that are mutually acceptable to ensure peace and security at sea.
Prime Minister Nguyen Tan Dung, meeting with the visitor later the same day, said the Vietnamese government and people attach great importance to developing relations with China, considering it a constant and priority policy.
Dai said China regards the friendship as a valuable asset of the two countries' Parties, governments and people. Vietnam and China share viewpoints on some major issues, including cooperation on the basis of mutual respect and fairness to promote peace, security and prosperity in the region and world.
So, China attaches priority to developing friendship and comprehensive ties with Vietnam, he said.
The same day also saw the 3rd meeting of the Vietnam-China Steering Committee on Cooperation. It was co-chaired by Deputy Prime Minister and Foreign Minister Pham Gia Khiem and the visiting Chinese State Councilor.
Mr. Dai said China would provide Vietnam with a credit line of US$300 million.
The two sides hailed the committee's achievements in the last two years, including the frequent exchange of visits by officials from ministries and other agencies and strengthening of cooperation between localities in the two countries.
Despite the global economic problem, trade between Vietnam and China last year was worth more than US$20 billion.
The two sides agreed to continue cooperation and increase trade to $25 billion next year with focus on balancing it.
Experts from both sides need to complete drafting legal documents related to the border demarcation for signing this year, officials said.
The meeting wrapped with the signing of a protocol for a telephone hotline between the top leaders of the two countries.