Communist Party of Vietnam (CPV) General Secretary Nong Duc Manh has welcomed a senior Communist Party of China (CPC) delegation as a boost to relations between the two neighbours.
During a meeting in Hanoi on August 28, Manh assured He Yong, CPC Secretary and Deputy Secretary of the Central Commission for Disciplines Inspection, of Vietnam's unswerving policy to attach importance to relations with China.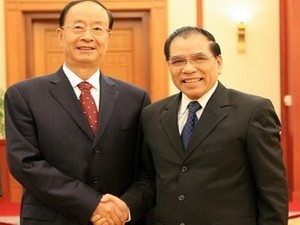 Vietnam's Party General Secretary Nong Duc Manh (R) shakes hands with He Yong, secretary of the Communist Party of China's Central Committee (Photo: VNA)
"The Vietnamese Party, State and people will do their best to develop friendship and traditional cooperation between the two countries, which was cultivated by Presidents Ho Chi Minh and Mao Zedong, and has been developed by generations of leaders and the peoples of the two countries," emphasized the Party leader.
He also appreciated cooperative ties and practical exchange programmes between the inspection agencies of the two Communist Parties.
Manh expressed his belief that the visit would make an important contribution to the comprehensive strategic partnership and mutual confidence between Vietnam and China.
His view was echoed by the Chinese head delegate, who affirmed China's determination to constantly develop the comprehensive strategic partnership with Vietnam to fulfill "16 golden letter" commitments made by leaders of the two countries.
"The friendship and cooperation between Vietnam and China in general, and between the two inspection agencies in particular, have constantly developed in both depth and width," emphasized He.
Host and guest exchanged congratulations to each other for their individual countries' socio-economic development. They highlighted China's achievements in its open-door process and building a specific socialist regime and Vietnam's 20-year renewal process which is creating a prosperous people, a strong country, and an equal, democratic and civilized society.
They also exchanged best wishes to the leaders of each others' countries as a gesture of friendship.
Also on the day, the Chinese delegation held talks with a CPV delegation led by Nguyen Van Chi, Politburo member, Secretary of the CPV Central Committee and head of the CPV CC's Inspection Commission.
The two delegations focused discussions on theory and experiences relating to inspection, discipline and strengthening the party, as well as in corruption control efforts.
During their stay in Vietnam from August 25-30, the Chinese guests visited the Ho Chi Minh Mausoleum and the late President's home and office. They also conducted field trips to the northern province of Quang Ninh, the central province of Thua Thien-Hue and Ho Chi Minh City.