Vietnam secured the third place in the Asia-Pacific Robot Contest 2009 which wrapped up in Japan's Tokyo on August 22.
Twenty teams from 19 countries and territories competed in this year's contest, which was themed "Travel Together for the Victory Drums".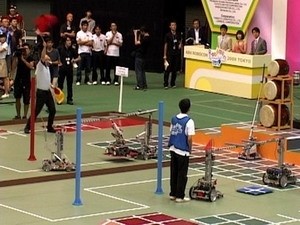 A view of this year's Asia-Pacific Robot Contest in Tokyo
The Vietnamese team included six university students and five lecturers from Ho Chi Minh City. They lost to the Chinese team from the Harbin Institute of Technology in the semi-finals.
The Chinese went through to the final and beat the University of Hong Kong team to become the champions.
Next year's Asia-Pacific robot contest will be held in Egypt.