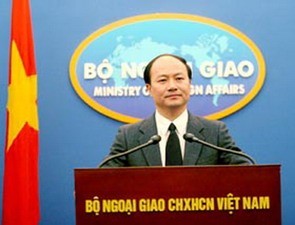 Foreign Ministry spokesman Le Dung
Foreign Ministry spokesperson Le Dung on May 25 raised worries over the Democratic People's Republic of Korea (DPRK)'s latest nuclear test, saying it further complicates the situation and runs counter to peace and stability in the region.
Dung made the statement in reply to questions from journalists after the DPRK had announced its nuclear test earlier in the day.
He continued by reiterating Vietnam's unswerving policy that supports a ban on all nuclear tests as well as non-proliferation of nuclear weapons and their disarmament worldwide.
" Vietnam fully supports peace, stability and denuclearization on the Korean peninsula and is willing to join the international efforts to maintain peace and stability in the Asian-Pacific region," emphasised the spokesman.
"We call on all the relevant parties to exercise self-control and deal with all the emerging complex issues through peaceful solutions, including the resumption of six-party negotiations," Dung concluded.