Vietnam strongly condemned the airport bombing in Moscow on January 24, said the spokesperson for Vietnam's Foreign Ministry.
"We are very indignant after hearing about the bombing at Domodedovo Airport in Moscow, Russia on Jan. 24 that leaves many people dead and injured," said spokesperson Nguyen Phuong Nga in response to reporters' questions on Vietnam's reaction.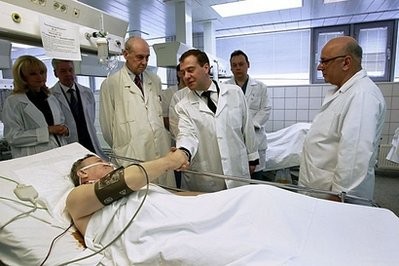 AFP - Russian President Dmitry Medvedev (C) shakes hands with a man wounded in the January 24 blast at Domodedovo airport, at Sklifovski hopistal in Moscow.
Ms. Nga added, "Vietnam strongly condemns the outrageous terrorist act and believes that the perpetrators will be given appropriate punishment."

On Jan. 25, Vietnamese President Nguyen Minh Triet extended his condolences to the Russian President, Russian people and the victims' families.