On May 4, Vietnam's Central Steering Committee for Anti-Corruption   launched a website as a forum to highlight corruption activities and strengthen its fight against corruption.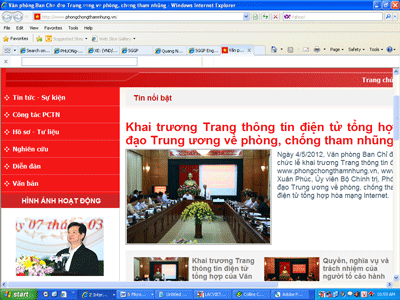 The home page of the website
The website: http://www.phongchongthamnhung.vn or http://oscac.vn will help connect and provide accurate and timely information online on political efforts to fight corruption and also bring to light policies and regulations related to anti-corruption measures by members of the Communist Party of Vietnam, State officers, and the public.

In addition, it is hoped that this will encourage people to engage more actively in fighting crime and corruption, by creating a forum for every voice, opinion and recommendation on anti-corruption to be heard.