Vietnam and Denmark have agreed to elevate bilateral relations to the level of partnership for development on the basis of stability, durability and mutual benefit.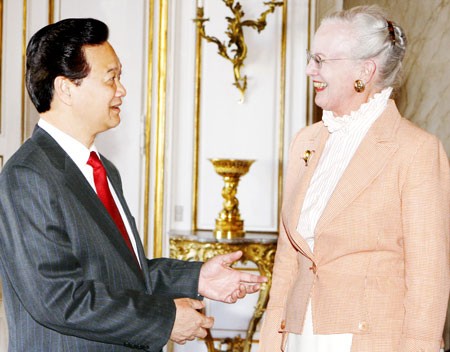 Vietnamese Prime Minister Nguyen Tan Dung talks with Queen of Denmark Margrethe II at the Royal Palace on Sep. 16, 2009.
Prime Minister Nguyen Tan Dung and his Danish counterpart, Lars Lokke Rasmussen, reached this consensus on this issue during their talks in the capital city of Copenhagen on Sept. 16.
The two PMs informed each other of the situation in their respective countries and discussed directions and specific measures to strengthen the friendship and multifaceted cooperation between Vietnam and Denmark in the years to come, focusing on trade, investment, development cooperation, and education and training.
PM Dung briefed his host about Vietnam 's achievements after 20 years of renewal, particularly its successes in terms of economic growth, attraction of foreign investment and ensuring social security amidst various difficulties resulting from the global economic crisis.
He also spoke about Vietnam 's foreign policy of openness, independence, self-reliance, diversification and multi-lateralisation of relations, as well as regional and international economic integration.
The PM thanked the Danish government and people for the valuable support and assistance extended to Vietnam during its past struggle for national independence as well as its current national construction and renewal.
PM Rasmussen praised Vietnam 's great renewal achievements, especially in hunger elimination, poverty reduction, health, education, and its deeper integration into the regional and world economies.
He said Denmark will continue to back Vietnam 's renewal process and provide more official development assistance to Vietnam , mainly for its efforts to cope with climate change and judicial cooperation.
PM Dung and PM Rasmussen agreed to increase the exchange of high-level visits in order to enhance reciprocal trust and understanding between the two countries' leaders, thus forming a foundation for expansion of cooperation in all fields.
While roundly praising the positive developments in trade and investment ties, the two leaders agreed they are not yet commensurate with the potential and aspirations of both sides.
They agreed to create more favourable conditions for companies from both countries to invest and do business in each other's markets with the aim of reaching the dual targets of US$1 billion in two-way trade and US$1 billion in Danish investment in Vietnam over the next few years.
PM Dung affirmed that Vietnam will continue to speed up economic reform and fully implement its commitments to the World Trade Organisation. He also pledged to assist Danish businesses in making long-term investment in Vietnam, especially in construction of seaports, maritime shipping and the development of environmentally-friendly technologies.
In return, Denmark will facilitate the flow of Vietnamese goods into its market, and onwards, to penetrate markets in northern Europe and the European Union.
The two leaders emphasised the importance of education and training cooperation and agreed to further promote cooperation in this area. In this spirit, they applauded the signing of a letter of content on cooperation between the two Ministries of Education and Training.
At their talks, PMs Dung and Rasmussen also touched upon a number of regional and international issues of mutual concern, and agreed to beef up cooperation and support at multilateral forums.
PM Dung said Vietnam will back Denmark 's endeavours to intensify its relationship with the Association of Southeast Asian Nations, particularly when Vietnam takes over the presidency of the bloc in 2010.
He confirmed support for Denmark's hosting of the UN Climate Change Conference and the Conference of the Parties to the Kyoto Protocol in Copenhagen in December, and thanked Denmark 's backing of Vietnam 's stronger relationship with the EU.
On this occasion, PM Dung invited PM Rasmussen to visit Vietnam . PM Rasmussen accepted the invitation with pleasure.