Vietnam and Denmark have agreed to upgrade their ties to comprehensive partnership, facilitating the development of the bilateral cooperation in the future.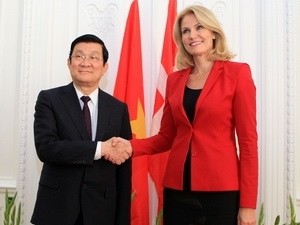 Danish Prime Minister Helle Thorning-Schmidt receives President Truong Tan Sang (Photo:VNA)
The agreement was reached during the September 19 talks between visiting President Truong Tan Sang and Danish Prime Minister Helle Thorning-Schmidt.
The two leaders agreed that the new comprehensive partnership will fuel the in-depth development of cooperation in prioritised realms, including politics-diplomacy, trade-investment, climate-energy-green growth, education-research, culture and people-to-people exchange.
Expressing their pleasure at the progress of the bilateral economic, trade and investment ties over the past years, the two sides also agreed to continue their close coordination to match the development of their cooperation with abundant potentials in the field.
President Sang affirmed that Vietnam always encourages and creates best conditions for Danish enterprises to invest in Vietnam , especially in areas of common interest and demand like wind power, sea transport and food processing.
The Danish leader underscored her country's determination to successfully implement the market development strategy with Vietnam as one of the 10 targeted economies in the world, striving to raise two-way trade to 1 billion USD in the coming time.
The Vietnamese President proposed that the Danish Government continue assisting Vietnam to effectively carry out development cooperation projects in Vietnam . He also thanked the Danish Government for supporting the Vietnamese community in the country.
The two sides briefed each other on the current situation in each country and discussed ways to further strengthen their cooperation in the future.
They also touched upon important international and regional matters of mutual concern.
Prime Minister Helle Thorning-Schmidt said Denmark continues to attach importance to the Asia-Pacific region, with ASEAN playing the key role.
She affirmed support for the settling of East Sea disputes though peaceful methods on the basis of international law.
President Sang suggested that Denmark continue backing Vietnam in strengthening comprehensive relations with the European Union (EU), and help hasten the EU's approval of a Partnership and Cooperation Agreement (PCA) with Vietnam, while assisting the country during the Vietnam-EU free trade agreement negotiation process.
As a coordinator of the ASEAN-EU relations, Vietnam will exert efforts to foster the relations between the association and the EU and Denmark in particular, he said.
The same day, President Sang also had a meeting with Speaker of the Danish Parliament Morgens Lykketof, during which he hailed the strong cooperation between the two parliaments in various forms.
The President said the exchanges of high-ranking delegations create a good chance for both sides to strengthen mutual understanding and share experience in law making, supervising and increasing relations between parliament and voters.
He voiced his hope that the Danish parliament will continue supporting the provision of ODA for Vietnam , focusing on the fields of Denmark 's strength and Vietnam 's demand such as clean and renewable power, environment protection and food safety.
Morgens Lykketof spoke highly of Vietnam 's effective use of ODA provided by Denmark