A diplomatic memo and accompanying map that China submitted to the UN to protest Vietnam's report on the limits of its continental shelf have violated Vietnam's sovereignty and its territorial rights over its part of the East Sea.
Foreign Ministry spokesman Le Dung made this statement on May 8 in reply to questions raised by journalists on China's May 7 objection to Vietnam's report.

Dung made it clear that on May 7 the Vietnamese Government registered with the UN's Commission on the Limits of Continental Shelves, its national report on the limits of its continental shelf which extends out over 200 nautical miles from its baseline. On May 6 Vietnam and Malaysia submitted a joint report on the outer limits of both countries' continental shelves.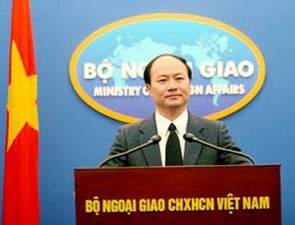 Foreign Ministry spokesman Le Dung.

"The submissions are quite normal for member nations to fulfill their obligations in line with the 1982 UN Convention on the Law of the Sea," emphasised the spokesperson.

The Chinese mission at the UN on May 7 handed a diplomatic memo to the UN Secretary General objecting to Vietnam's report.

"The contents of the diplomatic memo sent by China and the accompaning map, have seriously violated Vietnam's sovereignty, right to sovereignty and jurisdiction in regard of the East Sea. The requested nine-section line drawn up by China in the accompanying map is invalid as it bears no legal or historic evidence and is completely unrealistic," said Dung.

He summed up by confirming Vietnam has full historic and legal evidence to support its sovereignty over the Hoang Sa and Truong Sa archipelagos.