The Ministry of Transport on August 20 sent a dispatch to departments in all districts ordering not to issue any permit for hydrofoils that have a single engine, effective from September 1.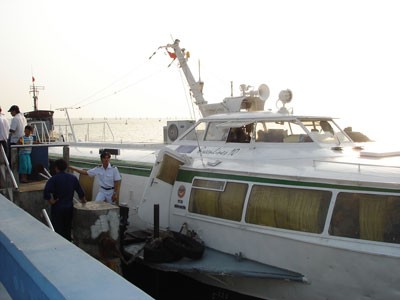 Departments of Transport asked to halt issuing permit for hydrofoil with a single engine from September 1 (Photo: Cat Tuong)
In the past, there have been many incidents involving hydrofoil boats with single engine. In 2012, the country saw six incidents in which the boat broke down while transporting passengers on sea.
The Departments must therefore check safety measures, route, departure location and condition of boat, before re-issuing permit, emphasized by the Ministry's dispatch.
Concerning management of speed boats, the ministry has asked the Vietnam Inland Waterway Administration to issue to the media all information of the hotline between rescue forces and boat owners.
The hotline must also be located at a place on the boat where passengers can easily see it and call for help in an emergency.