Vietnam's donors began a meeting in Hanoi December 3 with rapid and sustainable economic recovery on top of their agenda.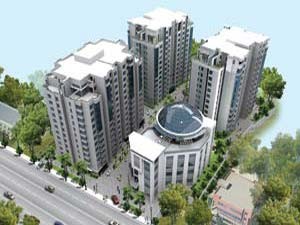 An artist's impression of the Thanh Cong Tower 1 Complex in Ho Chi Minh City that is scheduled to be completed by the end of this year. Ahead of the meeting of Vietnam's donors, which opened in Hanoi December 3, the World Bank promised increased assistance to the country. (Photo: SGGP)
The two-day meeting, known formally as the 2009 Conference of Consultant Group for Vietnam (CG 2009), will discuss measures to maintain economic stability, restructure the economy for post-crisis growth, and ensure sustainable development.
Also high on the agenda are improving public administration, fighting corruption, and combating challenges to the fight against poverty.
Speaking ahead of the event, the World Bank's country director for Vietnam, Victoria Kwakwa, said international donors appreciated Vietnam's achievements in overcoming the economic crisis.
The bank is considering giving more aid to the country through the Official Development Assistance channel and low-interest credit meant for medium-income countries through its International Bank for Reconstruction and Development, she said.
The financial support would be aimed at boosting sustainable growth, she said.
The bank is now the biggest multilateral donor to Vietnam, she added.
Ayumi Konishi, country director for Vietnam at the Asian Development Bank, the country's second biggest donor, said: "Vietnam's efforts to tackle the impacts of climate change will be given more support. Infrastructure, economic reform, and human resource development are the targets of the ODA to Vietnam."
Besides supporting the Government's economic stimulus measures, the ADB approved a new aid package worth US$2.15 billion for certain projects, including ones to develop renewable and clean energies.
The ODA expected to be pledged by donors in the last two months of this year could top $1.2 billion, according to the Ministry of Planning and Investment, taking the total amount for this year to over $5.05 billion.
It may be higher in 2010, thanks to the availability of some new credit channels, the ministry said.