Vietnam posted its 2009 economic growth at 5.32%, higher than the target of 5% but down from 6.18% last year, the General Statistics Office announced Thursday.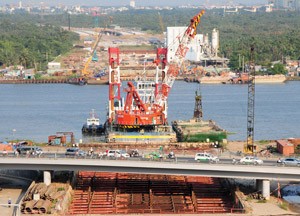 A view of the construction site of Thu Thiem Tunnel under the Saigon River in Ho Chi Minh City, the biggest economic hub in southern Vietnam (Photo: SGGP)
Earlier this year, forecasts on the country's growth rate varied a lot. They included a shocking 0.3% by The Economist, 4.5% by the Asian Development Bank, 4.75 by the International Monetary Fund, and 5.5% by the World Bank.
Thursday's General Statistics Office report said Vietnam saw a growth rate of 3.14% in the first quarter, 4.46% in the second, 6.04% in the third and 6.9% in the last quarter.
According to the report, the total export revenue reduced by 9.7% year-on-year to US$56.6 billion. Import spending also shrank, down to US$68.8 billion (14.7%), but the trade deficit is a little higher than US$12 billion, much higher than the set limit of less than US$10 billion. In 2008, the trade deficit was reported at US$17 billion.
The consumer price index rose by 6.88% in the whole year. Inflation slowed to 6.9% this year, down from 23% last year, according to the GSO.
The Government has set a GDP growth target of 6.5% for 2010.