Vietnam Electricity (EVN) on November 22 said that they have handed over VND3.7 billion (US$118,000) to the Hydropower Project Management Board No.3 for repair of damages caused by earthquakes in Bac Tra My District in the central province of Quang Nam.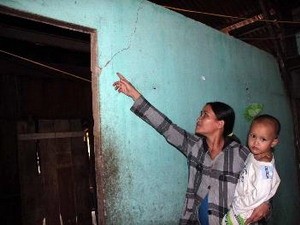 A woman points to cracks on her wall, caused by earthquakes, in Tra Tan Commune of Bac Tra My District in Quang Nam Province (Photo: VNA)
Continually recurring earthquakes have been educed by water accumulation in the reservoir of Song Tranh 2 Hydropower Plant, of which EVN is the investor.
EVN has tasked the management board to transfer the money to the People's Committee in Bac Tra My District for repairing damages to 856 houses and eight public works and for the construction of ten new wells.
The Hydropower Project Management Board is also coordinating with the Department of Transport in Quang Nam Province and Bac Tra My District to upgrade and repair Road 616 at a cost of VND22.72 billion ($1.09 million).
Almost VND12.4 billion (US$595,000) will also be spent on compensation and resettlement operations in the district.
Reservoir-educed earthquakes have continually been reoccurring in Song Tranh 2 Hydropower Plant in Bac Tra My District, causing cracks in houses and raising fear and panic among local residents.
Related articles:
Five more tremors unsettle people in Quang Nam Province
Strongest quake ever hits Song Tranh 2 Hydropower Plant
Mild quakes reoccur in Quang Nam Province