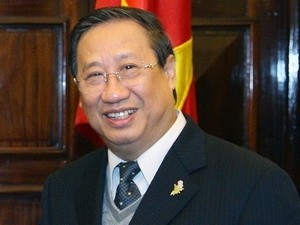 Deputy Prime Minister Pham Gia Khiem (File photo: Vietnam News Agency)
Vietnam wishes to develop a comprehensive strategic cooperation partnership with China following the guiding principles mutually agreed upon, of being good neighbors, friends, comrades, and partners, engaging in all-round cooperation, in the interests of long-term stability with a view towards the future.
Deputy Prime Minister Pham Gia Khiem expressed this desire on April 2 while receiving participants of the first two-day Vietnam-China People's Forum, which took place in the northern coastal province of Quang Ninh on March 31-April 1.
Deputy PM called on people's organizations and individuals from both countries to continue to actively develop initiatives and increase exchange programs, contributing to boosting mutual understanding, friendship, and relations of trust and cooperation.
As part of activities to mark the Vietnam-China Friendship Year, the first Vietnam-China People's Forum was jointly held by the Vietnam Union of Friendship organizations and the Chinese People's Association for Friendship with Foreign Countries,
The event is aimed at creating favorable conditions for participants to hold unofficial discussions on the status of two-way ties and measures to develop relations organically and constructively.
At the function, participants, including patriotic personalities, scholars, former diplomats, soldiers and entrepreneurs, also focused on the meaning and significance of Vietnam-China relations to the development of each country while appraising the achievements of both sides as well as shortcomings that need to be surmounted to boost relations in future.