Vietnam's 2010 GDP growth is targeted at 6.5 percent, said the National Assembly's Standing Committee at a meeting October 2 after considering the Government's proposal on major economic targets for next year.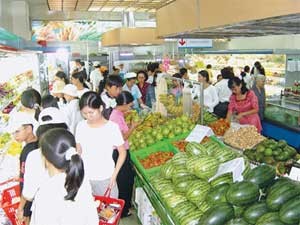 Customers at a supermarket. The Government has proposed that the 2010 CPI target be seven percent, along with a GDP growth of 6.5 percent (Photo: Dan Tri)
At the meeting, the committee heard the Government's report on the social and economic situation.
Accordingly, the country may meet some main economic targets set for 2009, of which GDP growth is expected to reach 5.2 percent, CPI to increase seven percent and budget deficit to account for 6.9 percent of GDP.
The country is not likely to fulfill seven among 25 targets, including export growth, job generation, and human resource training.
Though agreeing with the 2010 GDP growth proposed by the Government, the NA Economic Committee suggested the budget deficit target should be lowered. It argued that the budget deficit has ran high in recent years and particularly in 2009.
It also warned that the Government's debt has been on the rise: in 2008, it made up 36.5 percent of GDP; in 2009 it may be 40 percent; and in 2010 it is likely rise to 44 percent.
NA Deputy Chairman Nguyen Duc Kien commented that the 2010 GDP growth of 6.5 percent is reasonable, but he said the Government should use its experience in 2009 in proposing specific social and economic targets for 2010, which will be officially submitted to the NA at its sixth session scheduled to start on October 20.
2010 targets proposed by the Government

- GDP: 6.5 percent
- Income per capita: US$1,200
- CPI: 7 percent
- Budget deficit: 6.5 percent of GDP
- Job generation: 1.6 million
- Labor export: 85,000 people
- Poor household: less than ten percent
- Total investment: 41.5 percent of GDP