DARA International, an organization specializing in research on environment monitoring, announced in a report on January 10 in Hanoi that Vietnam had become even more vulnerable to climate change in 2012.
The DARA International report is considered to be one of the best overall assessments of the impact of climate change on human and economic development in 184 countries around the world from 2010 to 2030, covering different aspects.
Every year in Vietnam, climate change is causing damage and losses of up to US$15 billion, equivalent to five percent of Vietnam's GDP. The report indicates that if no effective measures are taken to limit the effects of climate change by the Vietnamese government, the damage may be more.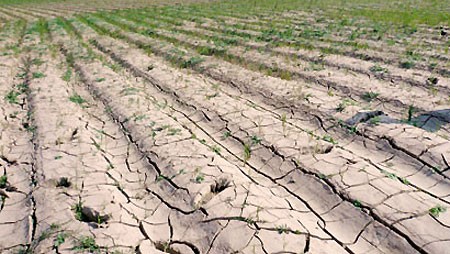 Climate change led to drought conditions in central Vietnam in second half of 2012 (Photo: SGGP)
In particular, rise in sea levels has caused an estimated loss of $4 billion.
Every year, as a result of climate change, labor productivity losses will be $8 billion, fishing industry will be $1.5 billion, agricultural industry $0.5 billion, floods and landslides $200 million and the costs to cope with temperatures rising will be $150 million.
Notably, the report also refers to vulnerability due to climate change in 2012 to Vietnam from multi-dimensional impact of hydropower.
Experts said that Vietnam will only get 'modest benefits from hydropower plants' in the future, as most of the plants in Vietnam have no reservoirs.  Instead they depend on continuous flow of   stream or river waters that will be easily affected.
Dry and hot weather in the summer will affect the production of electricity as annual rainfall will fluctuate or decrease.