Vietnam is currently facing a huge gender imbalance with a rise in the number of boy children being born, because of family traditional preferences of follow up on lineage.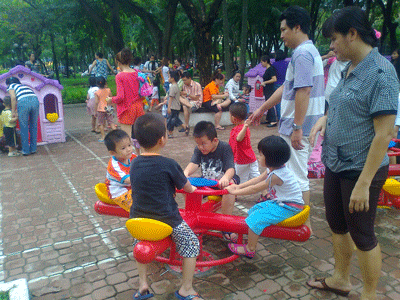 Many boys are seen in parks due to great gender imbalance in the country (Photo: U. Phuong)
Despite improved healthcare conditions for both women and children, Vietnam is seriously concerned with a rapid increase in male children.
The country's national average sex ratio at birth is 110.6 males to 100 females, compared with a biologically standard figure of 105.
This gender imbalance takes place just because men in Vietnam have to traditionally carry on the family lineage, inherit homes and land, care for elderly parents and oversee funerals and ancestor worship rituals.
Vietnam banned foetal sex selection in 2003, but the practice continues, especially in private clinics.
Within the next 20 years, the number of Vietnamese males will be about four million more than females.
Hence, the country needs to adopt effective measures to control this imbalance, or the consequences will be detrimental.
According to statistics laid out by the Department of Health in Ho Chi Minh City, since 2000 the City has managed to reduce its population growth rate from 1.7 percent in 2001 to 1.5 percent in 2006 and 1.39 percent in 2010. The rate of a third child in a family has also reduced by 0.2 percent each following year.
HCMC has adopted and incorporated many family planning measures recently, and as a result the numbers of abortions being performed each year have dropped from 127 cases to 76 now. The number of children suffering from malnutrition has also decreased to fewer than 7.6 percent.