Enhancing its own role, promoting democracy, and building solidarity to make the nation strong and prosperous and the society just, democratic and civilized are on the agenda of the 7th National Congress of the Vietnam Fatherland Front (VFF) began in Hanoi on September 28.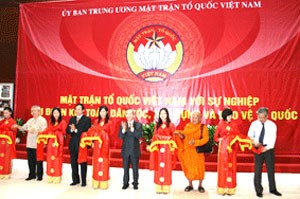 Dignitaries at the opening ceremony of an exhibition on the Vietnam Fatherland Front being held at the My Dinh National Conference Center in Hanoi to mark the Front's 7th national congress which opened on September 28.
Delegates will also discuss measures to reform the organization in 2009-14.
 
The congress is the first ever to gather VFF committees from around the country, both at the central and grassroots levels.
 
The three-day event is being attended by 1,300 delegates, including representatives of companies and from China, Laos, Cambodia, and Cuba.
 
They also include 262 from ethnic minorities and 160 from religious groups, besides representatives of foreign embassies in Vietnam and domestic and international non-governmental organizations.
 
The oldest delegate is the Most Venerable Thich Pho Tue, 92, of the Vietnam Buddhist Sangha, while the youngest is Vu Thi Xua, 19, an ethnic minority delegate from the northern mountain province of Ha Giang.
The Vietnamese Fatherland Front, founded in 1977, is a group of mass movements in Vietnam and helps manifest people's power in the country's polity.
Many of the government's social programs are carried out through the Front. Recently, it has been assigned a role in programs to reduce poverty. The Front is also responsible for much of the government's policy on religion.