Vietnam Fatherland Front launched a 'Fund for Poor' campaign in Hanoi on October 17, to support the poor and impoverished during the 'Month for the Poor', under the slogan 'Whole Country for the Poor'.
The campaign called for groups and individuals, Vietnamese or foreigners, to support the poor and impoverished of the country.
Huynh Dam, chairman of the Vietnam Fatherland Front Central Committee, said since the first launch of 'Fund for Poor' 12 years ago, as much as VND7.19 trillion has been donated to the poor and disadvantaged.
Besides, economic groups, corporations, businesses, organizations and members, non-governmental and localities have contributed more than VND15.3 trillion towards construction works and social welfare programs, said Mr. Dam.
According to statistics, in the first nine months of this year, individuals and organizations at home and abroad donated more than VND4.4 trillion to the 'Fund for Poor' and other social welfare programs.
They also contributed to the construction and repair of 65,000 houses for the poor and the building of more than 1,360 public works.
However, there are still 2.6 million poor households and 1.5 million who are near the poverty line throughout the country, said the chairman. He called on organizations and individuals at home and abroad to give more support to the campaign and make more contributions to helping the poor escape poverty and food shortage.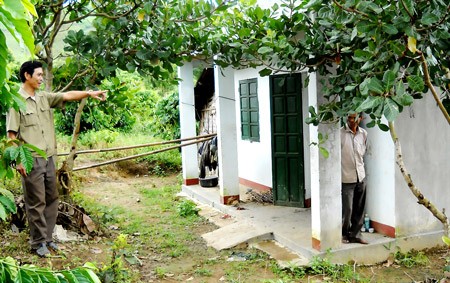 Though many ethnic minority people in Bo Y Commune of Ngoc Hoi District in Kon Tum Province live hard lives, they have donated land to build houses for the poor
Attending the meeting, Deputy Prime Minister Vu Van Ninh called on organizations and individuals at home and abroad to provide support to poor people, especially those living in mountainous and remote areas and disaster-prone regions, to help them overcome difficulties and escape poverty.
The 'Month for the Poor' will run until November 18.
Dep. PM Ninh said that poverty reduction and care for the poor is one of the key policies on which the Party and State are paying much attention to.
This is not only an economic issue but also a condition to ensure political and social stability and national defense and security, he added.
The Party and State always pursue strategies to develop economy in conjunction with social progress and equality, thus creating conditions for the people to develop production and enrich themselves, while also contributing to national construction and defense, he said.
At the ceremony, groups, individuals and enterprises pledged to donate VND2.7 billion to the 'Fund for Poor'.