A conference on 'Millennium Development Goals Report 2013-MDG' was organized by the Ministry of Planning and Investment and the United Nations Development Program (UNDP) in Hanoi on September 17.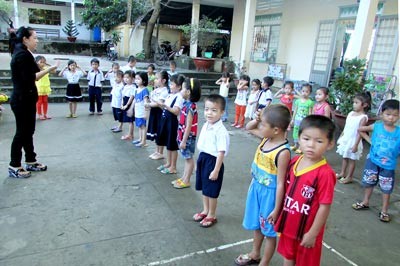 Students of An Son Primary School on Nam Du Island in Kien Giang Province welcome the new school year. (Photo: Sggp)
Deputy Minister of Planning and Investment Nguyen The Phuong said that the MDG 2013 has evaluated implementation of Millennium Development Goals and updated country situation before the 2015 deadline.
The report affirmed that Vietnam has completed three important goals of eradicating extreme poverty and hunger, achieving universal primary education, promoting gender equality and empowering women.
Experts said that Vietnam should focus on ensuring people's equality in building and implementing policies, developing a high-quality health system at reasonable cost, enhance quality of education, and in propagate environment protection in the post-2015 period.