The Prime Ministers of Vietnam and Finland, during their talks in Hanoi Monday, agreed upon promoting investment and trade between the two countries to increase bilateral trade to US$1 billion in the next few years from $240 million last year.
Finnish PM Matti Vanhanen arrived in Hanoi Monday for a three-day official visit to Vietnam at the invitation of Prime Minister Nguyen Tan Dung.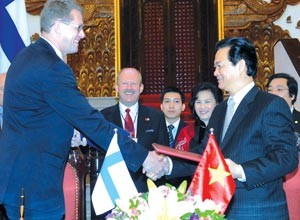 Vietnamese Prime Minister Nguyen Tan Dung (R) meets with his Finnish counterpart Matti Vanhanen in Hanoi Nov. 16
Vanhanen's visit aims to promote bilateral relations and co-operation on economics, trade and investment.
During their talks, the two PMs also agreed that Finland's investment in Vietnam should rise to US$1 billion in the next few years.
PM Vanhanen is accompanied by representatives of 26 leading Finnish businesses who will attend a Vietnam-Finland business forum in Ho Chi Minh City on November 17.
The Finnish PM also met with other Vietnamese leaders in Hanoi on Nov. 16.
Meeting with Party General Secretary Nong Duc Manh, the Finnish PM affirmed that his country treasures its friendship and wants to further cooperation with Vietnam to fully tap their potential.
The Finnish PM said his country and Vietnam boast conditions to promote joint efforts in a wide range of areas, particularly the forestry sector, in a stable, equal, mutually-beneficial and long-term manner.
While reiterating Vietnam's foreign policy of independence, openness, diversification and multilateralism, the Vietnamese party leader expressed the wish to strengthen and broaden the potential cooperation with Finland, which includes pushing up promotional activities for trade and investment as well as forestry, supporting and facilitating bilateral trade, soon expanding a pilot program on the exportation of Vietnamese labor to Finland and increasing coordination at international forums.
National Assembly Chairman Nguyen Phu Trong also held talks with PM Vanhanen. The Finnish PM said cooperation in the fight against corruption can be enhanced through parliamentary channels and Finland is willing to share its experience in the field with Vietnam.
For his part, Mr. Trong said that Finland's ODA has been used effectively in Vietnam, especially in poverty reduction programmes, the construction of infrastructure and the development of the ship-building industry.
The Finnish PM met with Vice President Nguyen Thi Doan the same day. He said his country would continue to support Vietnam in its efforts to step up cooperative relations with the European Union and expressed his belief that Vietnam will perform well as Chair of ASEAN.
Vice President Doan spoke highly of the signing of a memorandum of understanding by the two PMs regarding cooperation on labor and industry policy, a very new and promising area for cooperation.
On Monday evening, the Finnish PM flew to Ho Chi Minh City, where he was scheduled to attend the Vietnam-Finland business forum Tuesday.