Vietnam Food Administration has warned against consumption of illicit chicken and poultry, believed to be contaminated with toxic chemical residues.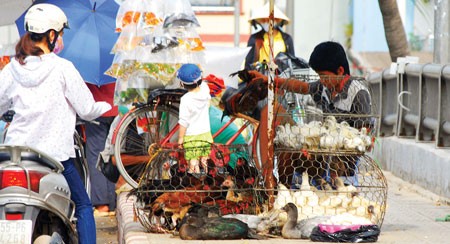 Vietnam Food Administration warns consumers against illicit chickens (Photo: SGGP)
Test results have confirmed that illicit poultry contained toxic chemical residues, which are banned during breeding of any fowl. Consumption of these contaminated birds could seriously affect human health, said the administration.
Chicken traders must obey the law, and not transport or trade in fowl with unclear markings and without quarantine.
On November 19, market management and anti-smuggling forces in Lao Cai City caught some people transporting illicit chickens on boats across the Red River. The authorities seized seven cages full of chickens weighing 280 kilograms, said to have come from China.
Officials in Lao Cai City also detained another two cages weighing 50 kilograms, that had no markings of origin.
The seized chickens have since been destroyed.