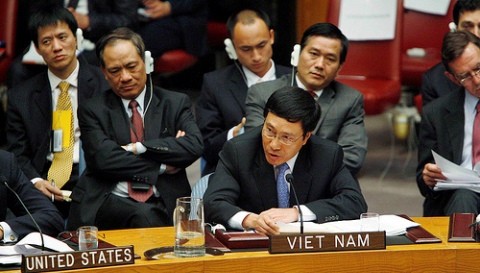 Deputy Foreign Minister Pham Binh Minh at a meeting of UNSC (Photo: UN)
Vietnam has fulfilled its mission as a non-permanent member of the United Nation Security Council (UNSC) over the past two years, Deputy Foreign Minister Pham Binh Minh said.
During the 2008-2009 term, Vietnam showed its stance of independence, self-reliance, construction and cooperation in tackling various issues among UN members, said Deputy Minister Minh at a press briefing held in Hanoi on Dec. 29 reviewing Vietnam 's activities at the UNSC.
Vietnam has positively contributed to the UNSC's efforts in maintaining peace and ensuring international security.
The UN Secretary General, leaders and major partners praised Vietnam's contributions to the UNSC. In addition, the Non-alignment Movement members and developing countries hailed Vietnam's contributions to promoting their role and voices.
Deputy Foreign Minister Minh emphasised that Vietnam's involvement in UNSC operations provided experience in the international area that could be used in future multilateral forums, particularly when Vietnam assumes the ASEAN Chair in 2010.