Vietnam and Germany have agreed to establish a strategic partnership and further strengthen cooperation in the time to come, particularly in key domains noted in a joint statement issued in Hanoi on Oct. 11.
Under the joint statement, which was issued during a two-day visit to Vietnam on Oct. 11-12 by German Chancellor Angela Merkel, the two countries will continue to increase the exchange of high-ranking delegations and welcome meetings at all levels, including between political parties, governmental and parliamentary agencies, and scientific and strategic research institutes.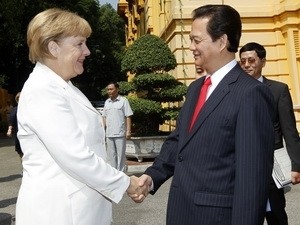 Vietnamese Prime Minister Nguyen Tan Dung (R) meets with German Chancellor Angela Merkel in Hanoi on Oct. 11, 2011 (Photo: Vietnam News Agency)
Vietnam and Germany will cooperate more closely to implement projects that were already agreed by the two sides while defining projects for the future, particularly those on strategic political dialogue; economics, trade and investment; justice and law; development cooperation and environmental protection; education, science, technology, culture, communications and social affairs.
To implement the joint statement, the two sides have set up a strategic management group co-chaired by a Vietnamese Deputy Foreign Minister and a State Secretary of the German Federal Foreign Office. The group is scheduled to convene its regular meetings within the framework of political consultations between the two Foreign Ministries.
They agreed to strengthen cooperation in multilateral and international forums, including the United Nations., while declaring to take into consideration the start of a strategic exchange mechanism on experience related to national defence and security policies that both of the two sides were interested in.
Germany backed the Association of Southeast Asian Nations (ASEAN) route on forming the ASEAN Community, thus, enhancing the bloc's active role in maintaining stability and peace in Asia-Pacific.
The two sides held that the "German House" project in Ho Chi Minh City would be an important part in the bilateral strategic partnership.
The two sides pledged to continue holding dialogues and exchange views in a constructive manner on human rights bilaterally and multilaterally, including annual dialogues on human rights between Vietnam and the EU.
Both sides applauded the significance of holding dialogues on the rules of law-governed states as well as methods to implement these rules.
Vietnam and Germany agreed to maintain the development momentum in cooperative relations in recent years and vowed to continue creating favourable conditions for their enterprises and investors.
The two sides affirmed their wish to speed up the implementation of cooperation projects, including a project to build metro route No. 2 in Ho Chi Minh City.
Vietnam and Germany also declared their determination to strengthen cooperation in pushing up EU recognition of Vietnam as a market economy.