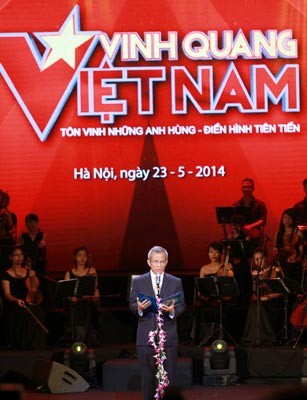 Chairman of the Vietnam General Confederation of Labor, Dang Ngoc Tung, speaks at the ceremony.
The 11th "Vietnam Glory" awards were given away to 19 individuals and 11 organizations for outstanding labor and business achievements and for building and protecting the country, in Hanoi on May 23.
The awardees included Coast Guard and fisheries surveillance officers and fishermen who are protecting the country's sea and island sovereignty.
Speaking at the event, President Truong Tan Sang congratulated the winners and hailed them for their indomitable struggle to protect the nation's sovereignty.