Labor Minister Nguyen Thi Kim Ngan, in a meeting with SGGP recently, ascertained that the Vietnam government ensures that at any cost all laborers still stuck in Libya should return home safely and no one is hungry.
The Minister informed that the long ordeal for Vietnamese guest-workers in Libya has almost come to an end as most Vietnamese laborers had fled the North African country, with nearly one-third of over 10,000 having arrived back in Vietnam and nearly two-thirds having been evacuated to safety in neighboring countries.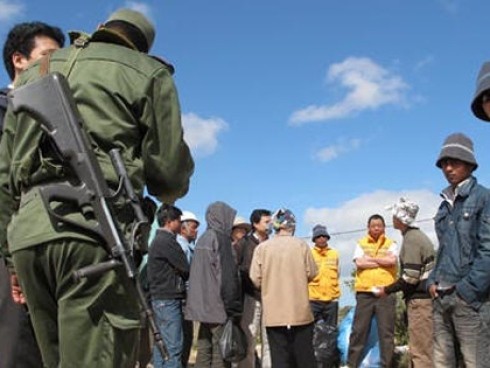 Refugees fleeing Libya, many of whom are Vietnamese, are stopped by Tunisian border guards Photo: Tuoi Tre
The Government and related agencies have tried all effort to help the laborers, as laborers can now leave the nightmare behind after enduring great hardships and grievances in fleeing
the unrests there. The government also ordered the Vietnamese Embassies in the countries where Vietnamese labors work help money so as labors can buy food. For instance, Vietnamese Ambassador to Egypt did not return home to attend his mother's funeral and stayed in Egypt to take care of Vietnamese labors who left Libya. His wife bought loafs of bread and herself took to the Vietnamese labors camp in the border 600 km far from Cairo, Ms Nguyen Thi Kim Ngan said.
Tears have shed on the hardened faces of laborers upon their return, as they no longer fear fires from troops and looters and robbers, as they no longer experience hunger and thirst, and as they can see their beloved families again. But, for these poor workers, a life of upheavals still awaits them ahead.
However, in the aftermath of the nightmare lies the grim reality facing these laborers. After a big sigh of relief, these laborers and their families now encounter indebtedness and continued poverty.
90% of those people returning from Libya are poor people from rural areas, who had to borrow money from banks to go abroad. "Their lives are now in great disorder as their families have to grapple with indebtedness as they had take out bank loans to finance their trips abroad," says the Lao dong newspaper.
Statistics show that around half of Vietnamese workers in Libya have worked there for half of their three-year contracts, while the other half have been sent to the country lately, including 5,240 people starting work there last year and 500 others who were just sent there early this year, according to Nguoi Lao Dong news.
Some reports how Vietnamese laborers in fleeing Libya had to leave all belongings behind as told by police there, and in returning to the country, they have to face huge debts.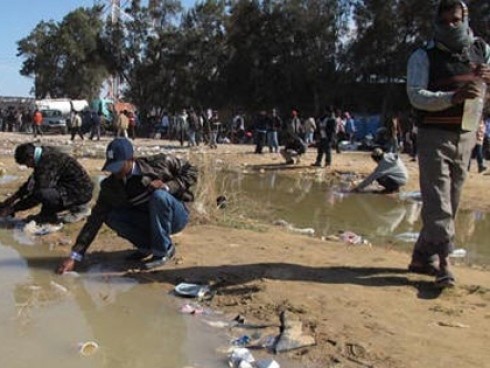 Some workers have to drink from dirty puddles due to a shortage of clean waterPhoto: Tuoi Tre
Workers returning from Libya have now escaped death threats awash in the unrests there, but they are now facing poverty again that they had earlier managed to escape. Before going to Libya for work, they borrowed from the Banks tens of million Vietnam dongs. Concerning this problem, the Labor Minister said that she proposed that the Government temporarily freeze those debts, then divide the labors into groups: Those who can continue working and afford to pay back the debt and those who are too poor the Government will discuss means to settle theirs debts…She said the Ministry of Labor, War Invalids and Social Affairs to help workers with financial difficulties. Companies which had been hiring local workers in Libya such as Airseco and Vinaconex Mex are also finding new employment for their workers. Dao Cong Hai, vice head of the Oversea Labor Management Bureau, said Malaysia was willing to provide jobs to those who had been working in construction in Libya.
Labor Minister Nguyen Thi Kim Ngan said that the Government has instructed related ministries and agencies to help the returning workers integrate back into the society. The labor minister said in the encounter with the press that "many workers who have just been sent to Libya lately had to borrow between VND35 million and VND40 million to cover the cost of their trips. We will suggest that the Government instruct banks to reschedule their debt payment."
At the above-said meeting, Minister Ngan also announced financial support for the returning workers, with each to receive VND1 million from the Fund for Vietnamese Workers Overseas, another VND1 million from companies who sent them abroad, plus assistance from corporate philanthropists. SGGP quotes the minister as saying Bank for Investment and Development of Vietnam and Cienco 5 have pledged to donate VND3 billion and VND5 billion respectively for the returning laborers.
During the meeting with the press, the labor minister said that until 11 pm March 5th, some 6,200 Vietnamese laborers had left Libya. Over 1,100 had boarded ships to leave the country, over 1,400 were on the way towards Egypt, and 1,000 others were heading for Tunisia, according the Government sources. The Management Department for Vietnamese Workers Overseas announced that an estimated 2,690 workers are still waiting in third countries such as Egypt, Turkey, Tunisia, Algeria, and Malta for flights home. At present half a million Vietnamese are working as guest workers abroad, who are remitting back home around US$2 billion of their wages each year.