Vietnamese President Nguyen Minh Triet has decided to grant amnesty to 5,459 prisoners on the occasion of the 64th anniversary of the country's August Revolution and National Day, September 2.
The President's Office announced the decision on Aug. 31 at a press briefing in Hanoi.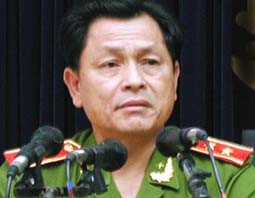 Deputy Minister of Public Security Le The Tiem (filed photo)
Among the prisoners granted amnesty, 19 are foreigners, Deputy Minister of Public Security Le The Tiem said at the press meeting.
Mr. Tiem added that the prisoners receiving amnesty this time also include 13 people who committed crimes relating to national security.
He said Catholic priest Nguyen Van Ly is not granted amnesty this time because amnesty is only granted to persons who show repentance and honesty, but the prisoner has not done this, and does not meet conditions for the amnesty.
The deputy minister added Ly had earlier received amnesty once but then he committed violations again. Ly's health is good now for his imprisonment, Mr. Tiem added.
Ly was sentenced eight years in prison in 2007 for anti-government activities.
Mr. Giang Son, deputy head of the President's Office, said at the press briefing that the amnesty demonstrates Vietnam's clement policy and humane tradition of the Vietnamese people for offenders.